Business Of Fashion – 2 juillet 2018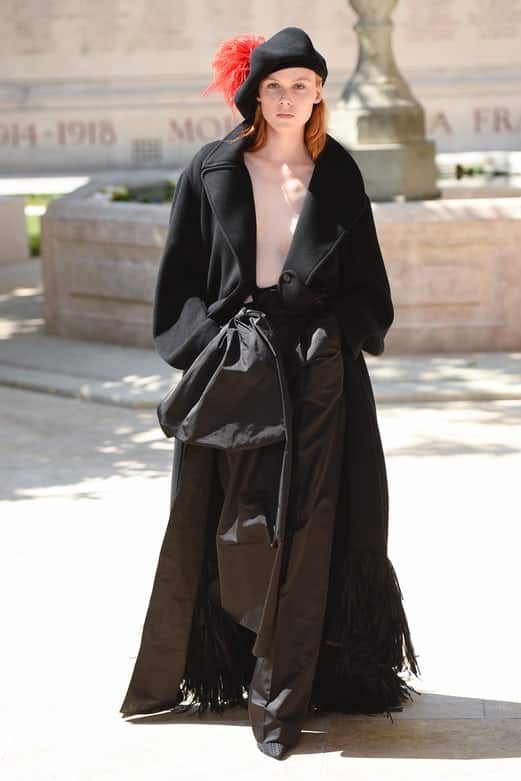 The Seductive Conviction of Sonia Rykiel
Julie de Libran celebrated the brand's 50th anniversary by glossing its essence with something grander.
BY TIM BLANKS
PARIS, France — Every so often, God smiles on fashion. On Sunday morning, Julie de Libran showed her L'Atelier collection for Sonia Rykiel in the courtyard of the Ecole des Beaux Arts. The weather complied. Frederic Sanchez chose the Velvet Underground's "Sunday Morning" for the soundtrack, and the song's strange, stinging sweetness was so perfect in context that you could feel critical faculties dissolving in the heat.
Which ultimately was neither here nor there, because de Libran mounted a fabulous display of classic Rykielisms, ticking box after box: sailor stripes, bias-cut jersey, pea coat, trench, mutant tuxedo, slinky lingerie and, always, the signature louche knitwear that defined a few generations of free-thinking Left Bankers. When the Chambre Syndicale, the governing body of French fashion, invited de Libran to celebrate the 50th anniversary of the Rykiel brand, she was at first a little intimidated. Then she realized that what she was being offered was time, a real luxury in fashion. So she took it. She called the result L'Atelier because it was, after all, the expertise of the design studio that helped her gloss the brand's essence with something a little grander.
So that's what happened. Sonia launched her business in May 1968. Paris was in an activist uproar, and she rode that wave. It's the nature of historical cycles that last century's radical becomes this century's pillar of society, but de Libran managed to expertly embody Rykiel's transition. The multicoloured knit that dissolved into a chaos of threads would be '68. The hyper-restraint of a floor-length tuxedo dress with coq-trimmed sleeves could, for the enfeebled purposes of my then and now comparison, stand for the kind of look that might entrance a modern client. But there was so much more: the slouch of a sequined sweatshirt, the scaled-up man's suit, the classic Sonia sweater given some added SHAZAM! And the clichéd couture closer, the wedding dress, shown as a corseted extravagance over jeans.
De Libran was supported by a wonderful model casting: Kirsten Owen, Malgosia Bela, Elise Crombez, Aymeline Valade. Faces! The seductive conviction of the whole presentation made you wish the designer could reinvent this situation for her tepid ready-to-wear shows.
Business Of Fashion – 1 juillet 2018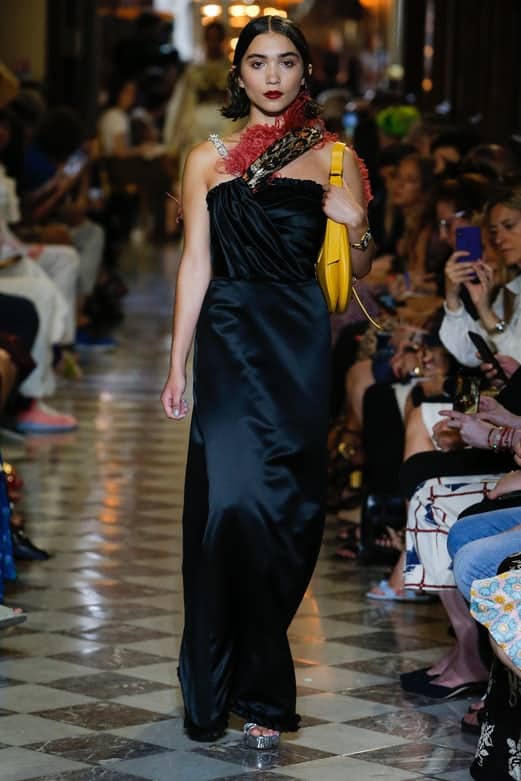 Playing with the Double Side at Miu Miu
Miuccia translated the rootless intrigue of travellers adrift, into a collection that had two faces, the everyday and the mysterious night.
BY TIM BLANKS
PARIS, France — Miuccia Prada had a significant cross-generational selection of actresses in the cruise collection she showed for Miumiu on Saturday, from Uma Thurman and Gwendoline Christie to Rowan Blanchard and Sadie Sink.
Then there were the models-turned actresses, Naomi Campbell, Jamie King, Audrey Marnay. Their presence made it clear the presentation was a performance. As it has been for the other fashion houses who've made a palaver out of cruise, everything distilled down to experience! Miumiu aimed for something immersive.
The setting was the Hotel Regina, an Art Nouveau gem adjacent to the Louvre. The story was essentially everything that goes on in hotels. Late nights, long corridors, lust cut loose from home and hearth. Cast your mind back to the video for Madonna's "Justify My Love". Or even "Lost in Translation", with Bill Murray crooning "More than This" in a jet-lagged karaoke fog (both tracks were on Frederic Sanchez's soundtrack of "hotel music").
Miuccia translated the rootless intrigue of travellers adrift, the way people often are in hotels, into a collection that had two faces, the everyday, the mysterious night. Day featured sporty short shorts and cableknit cardigans, but also a galumphy teenbeat acid-washed denim element that was disconcerting enough to make you wonder if its presence was purely to emphasise the slinky adulthood of the rest of the collection, where columns of duchesse satin and swathes of leopard-patterned lamé. Much of it trimmed with feathers or generously strewn with crystals, conjured up Hollywood visions of stars lounging seductively in boudoirs, or slinking down hallways for assignations in other rooms. One enraptured onlooker was drawn to comparisons with Fellini's "Juliet of the Spirits" and its rococo sensuality.
At the same time Miuccia couldn't help herself. She had to undercut the obvious. So there were naïve jacquards – pussycats and flowers — and denim wrapped in a sheer peignoir that injected an element of sour/sweet, and a haunting undertow of « Rosemary's Baby » in a model with Mia Farrow's pixie cut from that film. (Or maybe it was Roman Polanski's presence in the audience that sparked that association.)
Miuccia felt the duality was intrinsic. "In my life, I like to play with the double side," she admitted. If, in the provocative anonymity of a huge old hotel, at least one facet of her split personality took on a racy life all its own, there was also the other grounded side of her personality to pose critical questions like What's it all about? and Are we really having fun?
Fashion Network – 22 juin 2018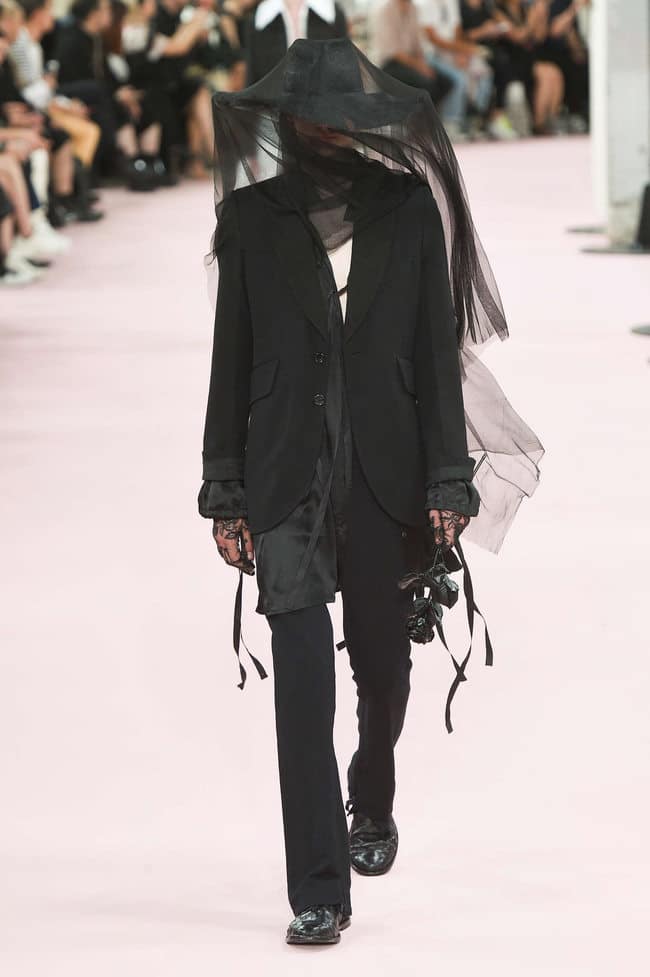 Ann Demeulemeester's symbolist romance
By Godfrey Deeny
Nothing very gender specific in a notably romantic co-ed show by the house of Ann Demeulemeester, an nostalgic collection that captured the contemporary yearning for a little more poetry in our lives.
The clothes were almost interchangeable between the guys and the gals in this collection, very much in keeping with the poetic rocker DNA of this Belgian house.
The gents appeared in lace shirts and gloves; cut-off petticoats; ladylike woven leather sandals; girly white cotton blouses and bloomers; the ladies wearing similar gear. Half the cast sported battered leather and straw hats worthy of a peasant in a Van Gogh oil painting. Above all, some superbly cut linen planters coats and dusters in dusty pink jacquards and ecru. Plenty of good merchandise in other words; and all inspired by the late 19th century symbolist painter Odilon Redon, whose paintings phantasmagorical dream-like qualities were echoed in the clothes.
"Odilon came from moment a when people were beginning to doubt the need for constant progress. When people wanted to pause and dream more. That's what I wanted to suggest," said the house's creative director Sébastien Meunier, who took over the design helm after founder Ann retired in 2013.
That need for dreams also apparent in an inspired soundtrack by Frederic Sanchez: four versions by, respectively, Marianne Faithful, Loreena McKennitt, Elizabeth Fraser and Joan Baez, of that great Irish romantic lament, She Moved Through the Fair. A moment of grace among an intensely busy day of traffic jams, multiple events and parties.
Fashion Network – 17 juin 2018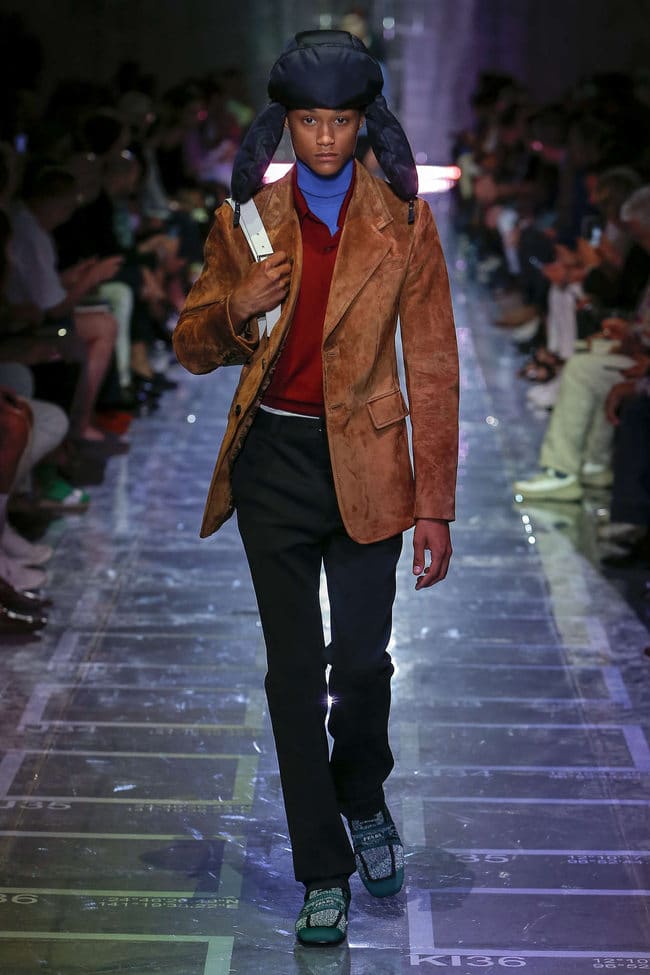 Prada ou la nouvelle élégance décontractée
Par Godfrey Deeny  –  17 juin 2018
A la manière des équipes qui se révèlent toujours brillantes en compétition, Miuccia Prada est de la trempe des créateurs compétiteurs, ces designers qui sortent les meilleures idées à chaque saison, qui savent avec précision à quel moment changer de direction ou quand un concept artistique ou stratégique a fait son temps.
Au moment précis où tout le monde à Milan se résigne à suivre le courant en injectant des coupes, des finitions et des matériaux inspirés du sportswear tout en les associant avec des motifs et couleurs tirés de l'univers du skateboard, Miuccia Prada met le holà. Et décide, pour le printemps-été 2019, de présenter une silhouette décontractée, vaguement technique, à la coupe impeccable – une allure qui allait très, très bien à ses mannequins particulièrement juvéniles et ébouriffés.
  
« Je déteste le fait que les Millennials soient réduits à une simple catégorie marketing. Ils sont notre jeunesse, la prochaine génération. Les voir comme une proposition commerciale, c'est stupide », explique la créatrice italienne devant un buffet parsemé de vodka-citron et de sandwiches aux anchois juste après le défilé.
Des pantalons à la coupe élancée, sans pinces ; des manteaux et des blazers minimalistes, en veau velours, et du denim légèrement délavé du meilleur effet – d'ailleurs, notez-le bien : le denim clair, utilisé sur des pièces tailleur, est à nouveau officiellement autorisé. Également très réussie, une série de sneakers en toile élastique. Rien de trop appuyé : branché et actuel, mais mûrement réfléchi. La plupart des mannequins portaient des chapkas en nylon matelassé, tantôt couleur tabac, noir, rose, puis imprimé d'incroyables motifs.
 
« Je suis à la recherche d'une nouvelle élégance. Je la ressens chez la nouvelle génération. Les jeunes en ont assez du street style, des logos et du skateboard. Ce sont leurs parents qui ont lancé cette tendance ! » rappelle Miuccia Prada.
Elle n'a pas oublié d'ajouter un soupçon psychédélique : des mélanges de motifs surréalistes, avec des visages de jeunes filles sensuelles aux lèvres écarlates ; des parterres entiers de fleurs ; des cimes de montagnes acidulées et des gratte-ciel au parfum vintage. Ambiance Jimi Hendrix du 21e siècle, des tenues parfaites pour aller faire la fête.
 
Cette saison, Miuccia Prada a renoué avec la tradition, en présentant son défilé à la Fondazione Prada. Et, avec son équipe de compétition, elle a créé un nouveau décor magnifique : de confortables sièges gonflables en plastique transparent réalisés à partir d'un design original de Verner Panton qui n'avait jamais vu le jour.
Au rythme d'une bande-son géniale assemblée par Frédéric Sanchez, qui s'ouvrait sur le titre « Windowlicker » d'Aphex Twin, les mannequins jeunes, frais et plein d'assurance, défilaient dans une ambiance calme et mise en scène avec intelligence.
Bizarrement, au même moment, la meilleure équipe de tournoi du monde – l'Allemagne – a perdu son premier match à la Coupe du monde, face au Mexique… Personne n'est parfait.
Par Godfrey Deeny
Traduit par Paul Kaplan
Vogue – 17 juin 2018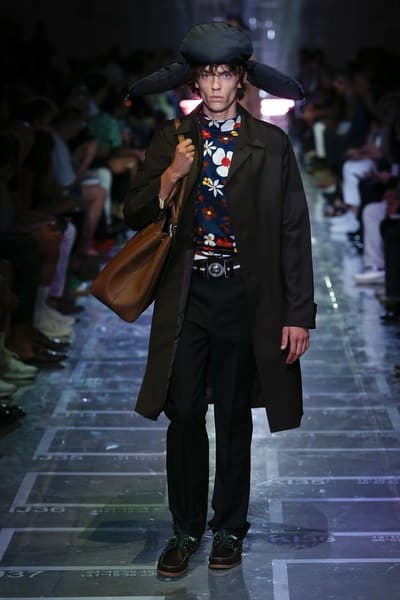 by LUKE LEITCH
A Prada show sometimes feels like an especially fiendish crossword puzzle that's designed never to be solved. To get to something even approaching a suitable answer you need to navigate a whole tranche of clues, misdirections, and visual entendres.
But that's the game. The unknowability of Prada is one of the elements that so entrances its devotees. As Timothy Leary once said, "The universe is an intelligence test." In Miuccia Prada's universe, the test is to find the intelligence—the information—that leads you to a vaguely acceptable explanation.
Tonight the trail of clues began with the setup. Prada's double-vaulted industrial shell was stripped back and redolent with the fresh-rubber smell of a newly bought pool toy, thanks to the translucent sheeting that coated its walls and floor. The seating was reproductions of the inflatable footstool first produced in 1960 by Danish designer Verner Panton, whose "total environment" interiors look like Austin Powers sets today, but were in their time powerfully psychedelic spaces.
This nod to the 1960s (sex, drugs, rock 'n' roll!) prefaced the most urgent-to-the-eye decorations in this show: the powerfully '60s florals near the end, the hand-drawn head-scape of flowers, clouds, and girls on a sweater towards the beginning, and the three printed and filtered collage looks—with short-shorts—in the middle. The music was Aphex Twin and Brian Eno, culminating with Air's "Sexy Boy." Okay . . . so was this Prada taking a trip to Sexytown? Backstage Mrs. Prada said she was hoping this season's iteration of Prada man would be "elegant but in a young, new way." Almost coyly, she did not disagree with the suggestion that sexiness was on the Prada palette. "You know I'm a bit contrarian. You know I never pronounce this word in my life: I never wanted to pronounce the word sexy. But now, sexy. . . ."
Aha! Maybe that was it! Prada loves to play with the ugly, and today—as Versace touched on, too—sexy is an ugly notion. Which makes it ripe for Prada-fication. So was Prada dosing us, taking us on a trip and urging us to turn on, tune in, drop out, and assess the subject afresh?
Sexiness is subjective, of course, but there was a trad-masculine authority (if that's what you're into) in the cleanly cut single-vented colored blazers and seamed, washed jeans with a break. There was also plenty of thigh (if that's what you're into) in the Daisy Duke denims (Davey Dukes?) and printed, striped, or plain short shorts which Prada might just have described as "miniskirts for men" (it was hard to hear in the backstage crush). There was a touch of femme (if that's what you're into) in the rubber-sheened ruffle-fronted shirts that were delivered towards the end.
There was a gentle return to the logo-fication we've seen here in recent seasons, but with none of the heavy emphasis on sportswear. Instead there were sturdily unreconstructed rib-knit and leather half-zips, boat shoes, ushankas in house nylon or a weave in red and blue that translated to sneakers and a sweater, and a tailored silhouette that was ostentatiously un-emphasized. Every look—every single one of them—came with a bag slung across the right shoulder.
Prada collections are drawn-out acts of fashion titillation, obfuscation, and veiled intent. As propositions go, tonight's was almost bracingly direct: sexy boys in elusive clothes. And, like, wearable.
Business Of Fashion – 17 juin 2018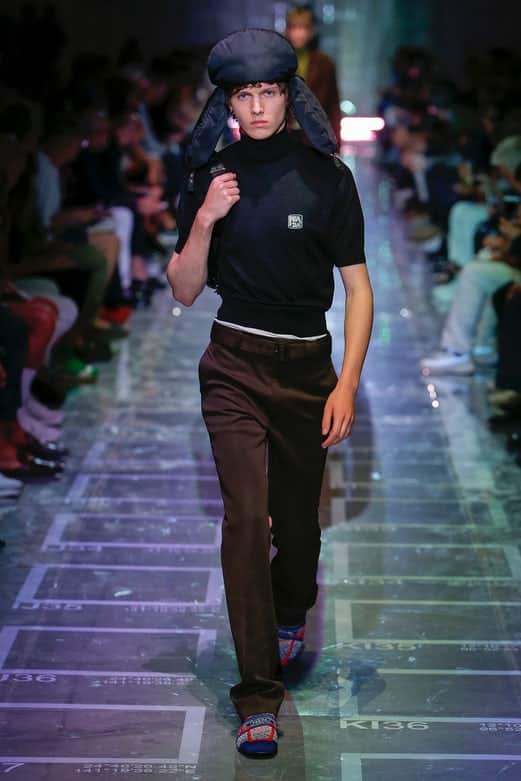 A New Elegance at Prada
Miuccia Prada built her collection on blazers and coats and then frosted the familiar with a layer of excitement — including a psychedelic subtext, a bit of flower power and a sensational mélange of found imagery.
BY TIM BLANKS
MILAN, Italy — After her show on Sunday night, Miuccia Prada insisted she prefers the most basic, banal words to describe what she does. No fancy-schmancy intellectualising. Just words like "simple" or "sexy" or "raw. » The Prada twist is, of course, that nothing is ever really simple.
For Miuccia's dream of "normal that looks exciting" to come true, you have to have normal to begin with. Maybe that's why she built her new collection on blazers and coats, classic in camel and grey flannel, less so in suede and chambray. Then she was able to frost the familiar with a layer of what could pass for excitement. It was most obvious in a psychedelic subtext, a bit of flower power, a sensational mélange of found imagery on Paul Hameline's turtleneck (rumour had it that Miuccia herself had mixed up this psych stew).
But there were also frisson-ish echoes of the "ugly" prints that made Prada's name a few decades ago, the same ones Miuccia resuscitated in the cruise collection she presented in New York in May. And she said she imagined the belted and buckled short shorts that ruled the show as the male equivalents of May's miniskirts, though they were also ultimate twink attire, stirring up long-buried memories of a prelapsarian era in gay porn.
So there was actually SEX in the show. Frederic Sanchez's soundtrack played Air's "Sexy Boy" as the models made their final march. It illuminated the curious challenge in this strange brew. Miuccia claimed that she was ultimately after "a new elegance", something that honoured sport and street (so many grabby, sporty bits and pieces in the collection, anchored by fabulous footwear) while also transcending them.
Reflect on the way she's covered menswear in the past and you'll get a pretty clear idea of how she feels about the male of the species. She does like to deball him, emphasise the vulnerability rather than the masculinity. And why on earth not? Toxic testosterone is paving the ghastly cul-de-sac into which human civilisation is veering. So Miuccia's response — not for the first time — was to play up a man's feminine side: a ruffle, a purse, and always those « sexy » shorts.
It was also tantalising to imagine the huge trapper hats that accessorised almost every look as some sly acknowledgement of the creeping Putin effect on the West. Miuccia's political sensibility was, after all, shaped in the crucible of Communist activism in 1970's Milan. Unfortunately for that theory, those hats had already dressed up the New York show, where they were inspired by an image of a Galliano look once sported by Kate Moss. In this latest incarnation, Miuccia said she liked the impression the trapper hat created of a huge head tottering on a skinny male body. (OK, that's vulnerable-ish.)
And so to the set: raw concrete walls draped in sheets of translucent plastic, seating made up of inflatable plastic cubes, originally designed by Verner Panton in the early 1960s but only now produced for sale. An intangible environment, scarcely helped by the geographic coordinates printed on the floor. Apparently, they were for "remote places. » We were not to know where we were. And I'm not sure that Miuccia knew either.
Business Of Fashion – 17 juin 2018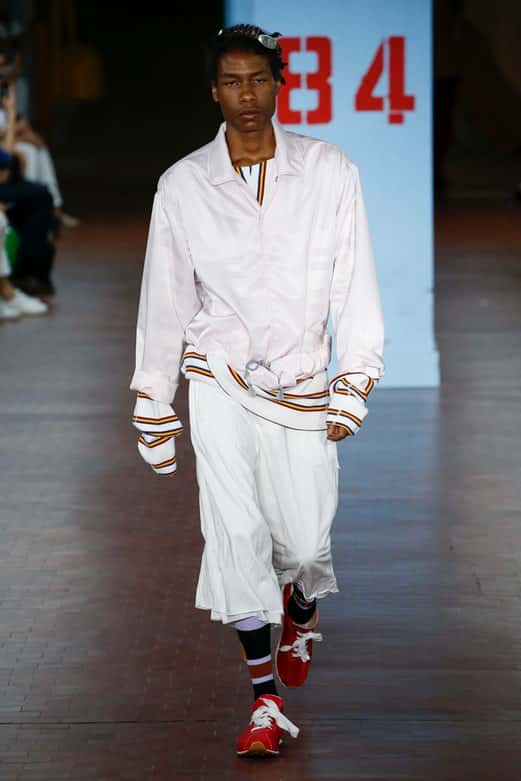 Marni Presents a Surreal Sporting Exhibition
Francesco Risso exhumed vintage uniforms and twisted them into new guises. But the show's presentation pointed to layers deeper and darker than catwalk hijinks.
BY TIM BLANKS
MILAN, Italy — Francesco Risso likes to challenge his audience with the seating arrangements for his Marni shows. On Saturday afternoon, the chosen few hundred perched uncertainly on Swiss exercise balls. All in keeping with Risso's theme: L'Olympiade Imaginaria, a surreal sporting competition in which imperfection was allowed and everyone – plump, skinny, old, young – was welcome. "We're used to the narcissistic pursuit of the perfect body," Risso explained, "but it's most important to bring tenderness. That's more powerful than strength."
We're quite familiar by now with the way in which sportswear has transformed men's fashion, injecting a casual physicality into rule-bound tradition. Risso doubled down, stepped back in time, exhumed vintage uniforms for cricket, tennis, baseball, golf, minced and twisted them and fired them back in new guises. Imagine ballers in big caps and plus fours, like the Duke of Windsor joined a street gang. Or players in boiled mohair two-pieces striped in lilac and pistachio. Team sports in Alice's Wonderland.
The sportiness was indisputable, from terry robes that were ringside-ready, to swathes of racing stripes and checks, to the big, bifurcated puffas and the doubled t's and sweats that will likely be the pieces that dress fashion editorials. But in the show setting – a rundown carpark underneath the Torre Velasca, one of Milan's very first skyscrapers – it was more interesting to chase Risso's rationale down the rabbit hole. "A ping-pong Olympics in Andy Warhol's Factory," he rhapsodised. "Innocence with a bit of corruption."
There were photoprints of male body parts – homoerotic, I guess – by Berlin-based artist Florian Herz, followed by Matisse-naïve graphics borrowed from the painter Betsy Podlach, their contributions pointing to layers deeper and darker than the catwalk hijinks. Frédéric Sanchez's soundtrack – John Foxx intoning "I Want to be a Machine" – compounded that impression. And don't get me started on the invitation. Was it a gingerbread man made from bubblegum? It melted in the car.
Document Magazine – 9 mai 2018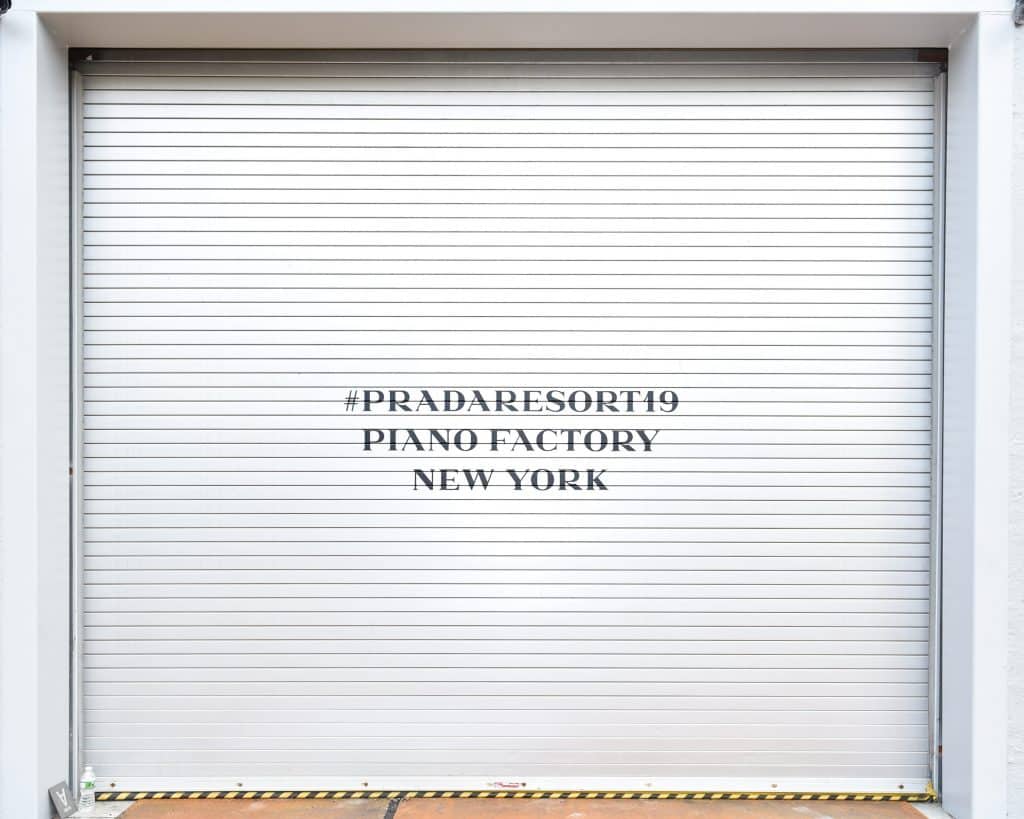 How Prada's music producer Frédéric Sanchez landed on 90s classics for their 2019 Resort show
Text by
Megan Wray Schertler
How Prada's music producer Frédéric Sanchez landed on 90s classics for their 2019 Resort show
Prada Resort 2019 Show at Piano Factory, NYC. Photograph by Griffin Lipson/BFA.com. Copyright BFA.
The music producer crafted a show soundtrack inspired by timelessness and Daft Punk for Prada's 2019 Resort show.
As one of the biggest show music producers in fashion, Frédéric Sanchez has created show music pieces for the biggest names in the fashion industry since his first live show gig for Maison Martin Margiela show in 1988. Ahead of the first Prada's 2019 Cruise show in New York—its first in the city after a 20-year absence—Miuccia Prada tapped Sanchez, a long-time collaborator with the designer to provide a soundscape for the show that was unquestionably 90s—think lots of Daft Punk and R.E.M. Document spoke with Sanchez backstage at the designer's headquarters, a former piano factory on West 52nd Street, following the show's noisy melange of technical fabrics, loud prints, and graphic logos placed front and center.
Document—How did you land on this particular musical direction for the show?
Frederic—When Mrs. Prada and I started talking about the collection, we were feeling nostalgic for certain things that we did in the 90s. There was also a hint of the psychedelic. This season the word we kept returning to was "timeless" and the idea of being without any references, which is kind of completely the opposite of what I was saying five minutes ago. That's why we used a few pieces of music that felt very iconic from that time, like the first record from the French band Daft Punk that came out around that time. We both said, "This is so iconic that it does not feel old."
Document—What was the specific mix?
Frederic—I used two specific songs from that record [1997's Homework], but I kept only the rhythm, and we remixed in a way that makes it even more contemporary. Then, we had three songs mixed with this a track from the film Donnie Darko, Gary Jules's 'Mad World', and then the song 'Wake Up' from a band called Mad Season. It's two musicians, one from a band called Alice in Chains from the grunge era, and another one from Pearl Jam. Then, we used an R.E.M. song.
"I think it's very difficult to look at what is happening in the current moment because there's so too much of everything. I think the only way to create something that resonates is to go deeply into yourself."
Document—What was the R.E.M. song that you used?
Frederic—The R.E.M. song is The One I Love. It's from an unplugged record.
Document—A total classic.
Frederic—Yes! So very classic songs and very romantic in a way. The obvious thing would have been to use the electronic sounds from Daft Punk to open the show, but we used the song from Donnie Darko, which is a very, very romantic thing. Then, suddenly, you have that clash with the very strong electronic beat coming in. So, it's really these two things that are clashing through the whole show.
Document—It's impossible to tell whether something will stand the test time without substantial distance. R.E.M. is a really great example of that. I feel like they hit the peak of their pop-stardom in the 90s then kind of fell out of favor as the decade came to a close. But, I think a lot of their music sounds really fresh now when you revisit it.
Frederic—Yes, yes. And also because the personality of the person that made them, you know? When you think about Michael Stipe or Kurt Cobain, they have become icons. Icons don't die. [Laughs]
Document—I think they start to mean different things to different generations.
Frederic—I think it's very difficult to look at what is happening in the current moment because there's so too much of everything. I think the only way to create something that resonates is to go deeply into yourself.
Document—To let intuition guide you.
Frederic—Exactly, yes. It makes it personal and sensitive.
Document—Mrs. Prada must be a fantastic person to collaborate with in that case. I feel like intuition is very much a tool she uses to navigate each season.
Frederic—Completely. It's fantastic because she pushes you to go deeply into what you want to create and what you think.
Document—How early do you start working on the soundtracks for the shows?
Frederic—I work for Prada all year long, so I am researching all the time for them, but I called them maybe two weeks ago to discuss music for this show. The process really starts the moment when they put the clothes together and do the fittings, so like a week before the show. I arrived in New York on the Monday before the show and was there everyday. When making the soundtrack for the live event, I always like to use existing music because it's almost like the effect of perfume. I can transfer emotion through references. There's a sort of romanticism and poetry to the songs. The rhythm tells you something about modern things, architecture—the modern world as we know it.
Business Of Fashion – 7 mai 2018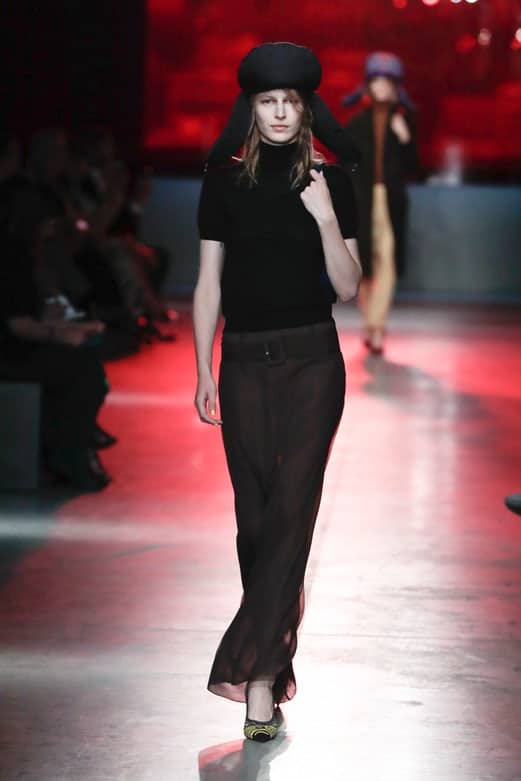 Miuccia Prada's Mad World
For Prada's first cruise show in New York, its filter was turned up to the max. The designer proposed new silhouettes and details that moved far away from today's overwrought trends, providing an urgent, necessary relief from tired fashion.
BY LAUREN SHERMAN
NEW YORK, United States — Years ago, Prada bought an old piano factory here in Manhattan, far, far in the West 1950s. It was a dead zone back then. Now, the neighbourhood is filling up with luxury apartment buildings and vaguely chic restaurants, populated with New Yorkers thrilled to have escaped cramped quarters in denser parts of the city.
Prada, too, has settled in to what it is now its US corporate headquarters, with enough room to accommodate a runway: an entire empty, brutal, concrete floor. On Friday evening, the architecture firm Herzog & de Meuron lined the windows of the space, where Miuccia Prada showed her Cruise 2019 collection, with red plexiglass, offering a new lens on those west side views. New York through the Prada filter. This is only the second time the house has made the resort season an event — the first was last year at home in Milan — and the choice to show here was a statement, albeit a quieter one than many destination shows. It was about the significance of the US to its commercial business, which it says is picking up after years of lag, but also to its identity.
The show's soundtrack opened with Michael Andrews and Gary Jules' wrenching cover of "Mad World." With a song as dark as that, the models instantly felt like real, actual teenagers, wearing narrow slip dresses and ruffle-edged minis. After the show, Prada described the collection as "contemporary," although much of its relevance came from referencing her own work from the 1990s. She also roped in other ideas from the era: In particular, the iconic photograph of Kate Moss in a Jean Paul Gaultier fur trapper hat taken by Steven Klein for Harper's Bazaar.
"It's my vision of what's real and what you want to wear today," she said. "But it's always a fantasy."
Perhaps that's why she said she can't resist returning time and again to her famous upholstery florals and geometric patterns in saturated hues so specific to her palette. And with good reason: few designers' archives transcend eras so successfully. But this wasn't a nostalgic collection. Instead, Prada proposed ideas that will, thankfully, move the fashion conversation forward: a belt slung low, skirts that falls far above the knee, spaghetti-strap tanks, an empire waist. Certain details — a mullet ruffle on a pair of elongated floral brocade trousers, an engineered knit fuzzy like static on an old television, a reinterpretation of the logo fit for the cover of a graphic novel — were tiny but impactful. What a relief to know something new is coming.
But Prada has never lacked relevance on the runway. The staggering number of thinking-person celebrities — including Ava Duvernay, Lena Waithe, Sarah Paulson and David O. Russell, as well as designer fanboys Raf Simons and Marc Jacobs — sitting front row indicates that her work holds important place in the broader culture. They wanted to be there. Will company itself finally be able to take that good will, that admiration, that adoration, and sell in a way that is as contemporary as the work? There's certainly plenty of material.
Archétypes, Artefacts et Simulacres – Novembre 2017. Installation. Holiday Boileau. Filmé par Matthieu Salvaing.