Dior Homme – Musique originale et sound design – Juillet 2017
Dazed – 29 juin 2017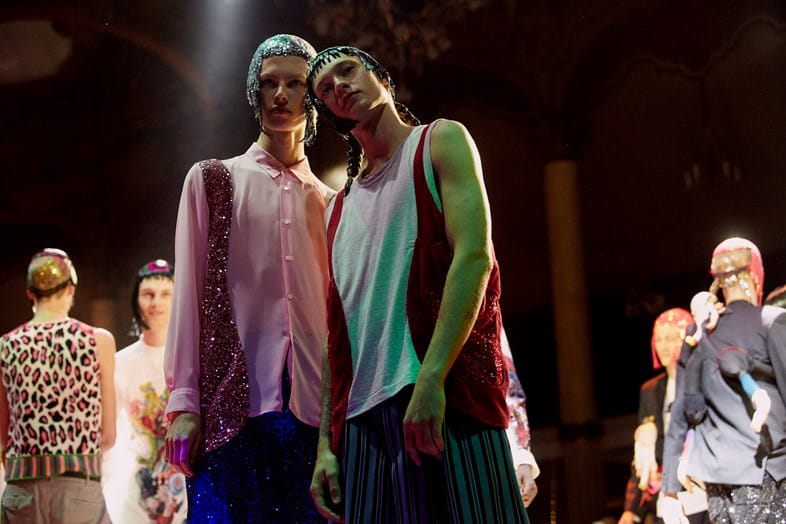 The menswear shows have wrapped, and after a journey from London to Florence, then Milan and finally Paris, it's time to reflect on the season that was. While there were those which stunned thanks to their sets (Rick Owens' towering scaffolding springs to mind), entertained with performance (the circus troupe Vivienne Westwood brought to town) and joined fashion and art together in unexpected collaborations (shout out to Jenny Holzer x Off-White) there was one show that was particularly notable for the immediate effect of sheer joy felt by its audience: Comme des Garçons Homme Plus.
A bit of context: This was Rei Kawakubo's first show since the monumental Met Gala, where the elusive designer gave a few rare press interviews and even told Lynn Yaeger she wasn't actually going to show up. (She did, in a slightly fancier version of her standard Lewis Leathers biker, black skirt and trainers uniform). Of course, Comme was already a fashion and business behemoth, but a Met retrospective is another thing entirely; the hundreds of thousands of public visitors standing in line is a pretty different stage for Kawakubo's work than her intimate fashion shows. As for the show itself, once the initially reluctant designer had been talked into doing it, she went all out – even creating an 116,000 square foot mock-up of the space in Tokyo. If there was ever a time that the already mysterious Kawakubo seemed even more like a deeply serious, incomprehensible genius, this was it.
So, entering the grand Salle Wagram that made up the Comme menswear show space, it's safe to say the audience was probably expecting something thought provoking, loftily conceptual, or even sombre. After all, the last few Comme menswear shows have explored ideas including boyhood, 'the armour of peace', and the emperor's new clothes – this season has the added backdrop of a world which feels like it's inching towards crisis, as exemplified by the hot new trend of bomb detector dogs outside shows. Instead, as the lights went down, something else happened entirely: the raised, square catwalk was lit with a myriad of swirling, technicoloured spotlights, the thumpingly loud soundtrack kicked in, and the young gang of models bounced up onto the stage with more energy than had been seen all month.
Dressed in a wild, hyper-saturated patchwork of colour, pattern, texture and print, they danced, paced, vogued, threw poses. They wore jackets that clashed red Flinstones-esque faux fur with colourful florals and rainbow lurex. Some looks were almost entirely constructed of thousands upon thousands of shimmering sequins which reflected the bouncing lights, while the shoes on models' feet (limited edition Nike 180s) seemed to glow neon as if under an ultraviolet light. At points looking like teenage boys dancing clumsily at their first party, there was something seriously charming about the way the models moved around the space.
Sculptor Mona Luison (who worked on a capsule collection of jewellery in 2011 with Comme called Love Me Tender) was invited back to create a series of jackets. Imagine Louise Bourgeois let loose on a toy box after a strong dose of acid: rubber dinosaurs with rabbit faces and dolls with Barbie limbs extending out of their eye sockets all protruded from the fabric. "We spoke about inside/outside, explosion, strangeness, toys, dolls…" the artist said of the creative process, adding that being at the show (her first) was "amazing". "I was very pleased to see such good spirits, I loved being in that place at that moment. It was a great privilege for me to work on the collection."
"Imagine Louise Bourgeois let loose on a toy box after a strong dose of acid: rubber dinosaurs with rabbit faces, dolls with Barbie limbs extending out of their eye sockets"
For the energising soundtrack, long-term Comme collaborator Frédéric Sanchez had one word as his starting point. "I don't really get briefs, but this time there was one," he shared over the phone from his Paris studio. "Rei was thinking of disco." He wasn't going to focus on the past though – "it was not the idea to play Gloria Gaynor or Donna Summer" – but instead explore the core of the word itself. "What is everything you can put into a word like this to make it extreme? So I mixed all these tracks in a frenetic way with this idea of having this imaginary sort of club, and this moment where everything is mixed up in your head. A sort of extreme disco mix – so is it disco, is it rave?"
It certainly did the job, with the breakneck BPM leaving the audience bobbing up and down in their seats (Tyga, sitting in the front row, looked thrilled). After the show, the name for the collection was declared to be 'what's on the inside matters' – almost all of the crazily colourful jackets were in fact worn inside out, so it was their linings the audience had been seeing. Kind of a funny phrase when you consider we're talking about fashion, but nevertheless – the effect of the show was notable and immediate: it made people happy. Like the hours spent losing yourself on the dancefloor of an amazing club, it was a moment that got as close to euphoric escapism as fashion can manage. Disco died because it became formulaic, predictable and tired. Despite the blockbuster exhibition and the accompanying red carpet spectacle, Rei's catwalk party proved that there's no danger of that happening to Comme.
Dior Homme Summer 2018 Show – Savoir Faire – Composition originale
Dior Homme Summer 2018 Show – Composition originale
Prada Men Spring 2018 fashion show video – Composition originale
Salvatore Ferragamo Men Spring 2018 fashion show video – Composition originale
Ports 1961 Men Spring 2018 fashion show video – Composition originale
MSGM Men Spring 2018 fashion show video – Composition originale
Dazed – 24 juin 2017
Kris Van Assche is still having fun after a decade at Dior
This year, Belgian designer Kris Van Assche celebrates a decade at the helm of Dior Homme. Even he can't quite believe it's been that long – "It's gone really quickly!" he exclaims from his atelier at 3 Rue de Marignan, the afternoon before his SS18 show. Originally arriving at the house in 2000 with Hedi Slimane (who he assisted at Yves Saint Laurent), he left to start his own independent label in 2004. When Slimane exited three years later he returned, dividing his week between the two brands until 2015, when he decided to focus on Dior full time. "It became super exciting for me when I had to quit my own label. It really allowed for me to put much more of myself here," he says. "I've kind of reinvented my role now, so it's a whole new adventure."
That new adventure hasn't exactly been low profile, thanks to a list of headline-making campaign stars. As well as younger creative talents including A$AP Rocky, The xx's Oliver Sim and Manchester By The Sea actor Lucas Hedges, there was Larry Clark, Boy George, and most recently Depeche Mode's Dave Gahan, revealed only last week. While the casting perfectly brings together both the cult and current, what's perhaps been most brilliant is the unexpected nature of the protagonists: even Van Assche thought it would "for sure be a no" from the 74-year-old Clark, best known for seminal 1995 film Kids, and photobooks like Tulsa and Teenage Lust. "I've been very lucky," admits the designer happily. Clark even made a short film for the house, and despite their wildly different backgrounds, each campaign star has felt unshakably authentic as a figurehead; they've been chosen out of a genuine respect for their work as opposed an attempt to tap into a trend or hit up the latest social media influencer.
Recent collections have been similarly high voltage, blending dark but impeccable tailoring with a subcultural and street edge. There was last season's 'HarDior' collection, which saw a hardcore techno raver influence that had hints of Belgium's gabber music fans. Then there was the punkish, gothic SS17 collection, which featured bondage straps, skull motifs, and Frankenstein-like red stitching. The season before that, 80s New Wave and 90s skaters were a key reference point, and models wore their hair in emo fringes. To top it all off, their fingernails were painted with black polish. "I am interested in a synthesis of generations and filtering subcultures through my own lens to tell a new story," Van Assche has said.
"It became super exciting for me when I had to quit my own label. It really allowed for me to put much more of myself here" – Kris Van Assche
His SS18 show yesterday, was another exploration of youth culture through the lens of Dior's longstanding heritage, as models marched out onto a turf runway to a jarring mix which veered between outsider anthems like Radiohead's "Creep", REM's "Losing My Religion" and Depeche Mode's "Enjoy the Silence". Above them hung black streams of tinsel, which looked like the tape you'd find coiled in cassettes.
The collection was divided into two parts – first up was a desire to "re-think and re-work the DNA of the brand": the black suit and the white shirt. "How can we re-make that and deconstruct it for the future?" was the question Van Assche posed. The answer was to approach the suit in what he called a "radical" new way: the first silhouettes were a menswear take on Christian Dior's classic Bar silhouette for women while the backs of jackets were cut away to reveal bondage-like straps which bisected the t-shirts beneath. Some pieces saw sleeves chopped off entirely to become scarves wrapped around the neck, and trousers were blown up into raver-wide, JNCO-like proportions, or else replaced by super short shorts. In a direct tribute to the house, the address of the Rue de Marignan atelier appeared prominently, featuring on bags, tops, shirts, pins and more.
But there was also an ode to American adolescence – with varsity jackets and prints, a heavy sportswear theme, and what Van Assche said was a tribute to the all American prom night – when young men might put on their first suit. "For me it's just youth culture, street culture," he noted of the Stateside references – which have also been a famous source of inspiration for fellow Belgian, Raf Simons. "When I was 15 we all looked at America for that. Some of those memories come back… but now that street culture is everywhere, it's worldwide." One phrase came splashed across multiple pieces: "LATE NIGHT SUMMER". "I really wanted to evoke when you get to stay out the whole night for the first time," he says. "The sky's the limit – having beers, your first boyfriend or girlfriend, that idea of becoming aware that the way you dress is going to help you socialise and exist, really."
Trainers were matched with every look – like when teenage boys kick off their school shoes as soon as the bell rings and put on their freshest pair of sneakers. There was also a collaboration with artist Francois Bard, whose work depicts 21st century scenes – men in caps, trainers and hoodies – in fine art oil paintings. Similar to Van Assche's own work, his practice mixes the contemporary and street with elevated, precisely honed techniques. The designer even has some of Bard's pieces at home. "I think he has a very traditional way of portraying something very modern, so I very much like his work," he praises. Beneath it all was an exploration of the line between boyishness and manhood, those moments young men start to discover their style, begin to dress with intent: "The idea of these guys at college… how do they enter into this process of seduction or being more sexy? By cutting off their sleeves, making their own necklaces… but with little skulls because of course they're still tough."
While some designers might be getting restless after such a long time, Van Assche seems perfectly content. The rest of the industry, it should be noted, appears to be in a near-constant state of flux, with new moves announced regularly and one designer – Justin O'Shea, hired at Brioni – only lasting a single season in his new job. "It feels like I'm growing into a new chapter, it doesn't really feel like I've been doing the same thing for 10 years," Van Assche says. He cites the decision to shake up the campaign team and start working with David Sims as an example – "I'm reinventing it because I want to change it on a high. I don't want to get into a comfort zone." That's the risk of working in a big house, he admits: "You know the expectations, you know what will sell, what people will like. But in the end I really realised with my own label – I'm not having enough fun with this. So I had to clean everything out and I started having more fun here." It's certainly paying off.
Business Of Fashion – 24 juin 2017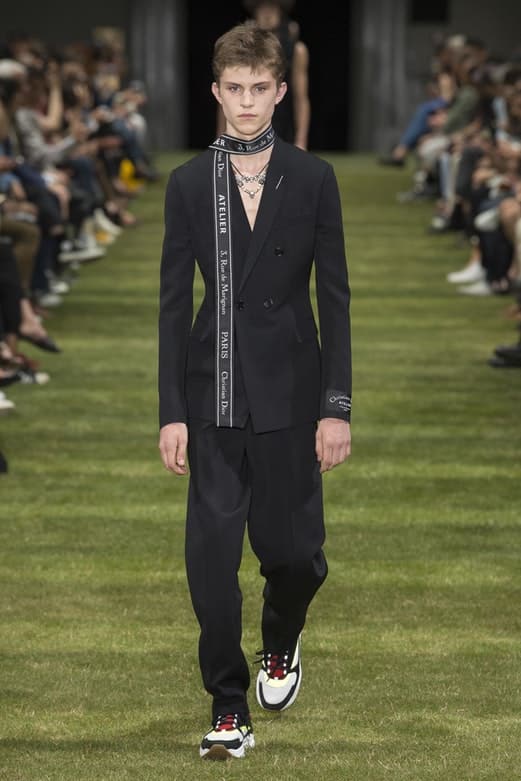 Teenage Nights at Dior Homme
By Tim Blanks
The power of smell is such that when the first astronauts went into space, they carried vials of different scents as reassuring reminders of Planet Earth. The one that spoke most to happy memories was apparently fresh grass. It certainly worked that way for Kris Van Assche, whose latest show for Dior Homme, Late Night Summer was primed with his recollections of adolescence and staged on a carpet of grass that smelled almost overpoweringly summery.
The massive curtains of dark tape that hung above it might have been an abstract rendition of a night sky, but I thought of cassette tape too, and teenage boys like Assche slaving over compilations for their Walkmans. Frederic Sanchez struck all the right notes with his soundtrack: Radiohead's Creep, Depeche's Enjoy the Silence, REM's Losing My Religion, Black's Wonderful Life… more happy memories.
There was a sweatshirt in the show embroidered with a painting of flowers by the artist Francois Bard, whose pictures of boys in hoodies Van Assche also duplicated. Bard used some words in his original work, which the designer loosely translated as, "Time is only catching those who ignore it." Van Assche has never been in any danger of that. He's always been acutely aware of the passage of time, even more so this season as he celebrates his 10th year at Dior, which is also the house's 70th anniversary.
The first half of the show was Van Assche's reflection on what he considers to be the DNA of Dior menswear, a black suit and white shirt. His dissection was thorough, from an opening look where, for the first time, he offered a male take on the classic "veste de bar", very tailored with a suppressed waist. Next, the jacket was sleeveless, paired with short shorts, gym shorts really, except they were in black ottoman wool. A little later, there was a tailcoat, Van Assche's favourite piece in the collection, "because it was the most challenging." It was cut on the bias, a break with tradition that gave the atelier's tailors nightmares, according to the designer. Its formality was defused by being shown inside out and paired, again, with those shorts. And, again, it was also shown sleeveless. The orphaned sleeves were used in the collection as scarves or casually knotted round waists.
If that first half of the show was a celebration of his professional life — the address of the atelier was used as a decorative ribbon detail down a sleeve or writ small as a pinstripe — the second half was personal. "Late night summer, when we were kids staying out all night for the first time, drinking beers, falling in love…" Van Assche based these looks on school uniforms, with sweatshirts and bombers printed with a college-like logo, or those Bard images of hoodies.
He mentioned the "attitude of the street" often. Every model wore trainers. Some also wore necklaces that were supposed to look like they'd strung them themselves, from dice and skulls and shells. And there were so many more of the shorts that the teenage gam is incontrovertibly confirmed as the primary male erogenous zone of Spring 2018.
But (and there is always a "but" with KVA) something else Van Assche said illuminated why his signature hybrid of sport and tailoring will always err on the side of the latter, so that even the raging hormones of adolescence were subsumed here by adult abstemiousness. I asked about his own summer late nights, his own bittersweet memories of adolescent firsts. "I was way too good," he answered ruefully. "That's why I have to live it now." So it's all a fantasy. But, after a certain point, time will catch you, and it's just too late.
SHOWstudio – 24 juin 2017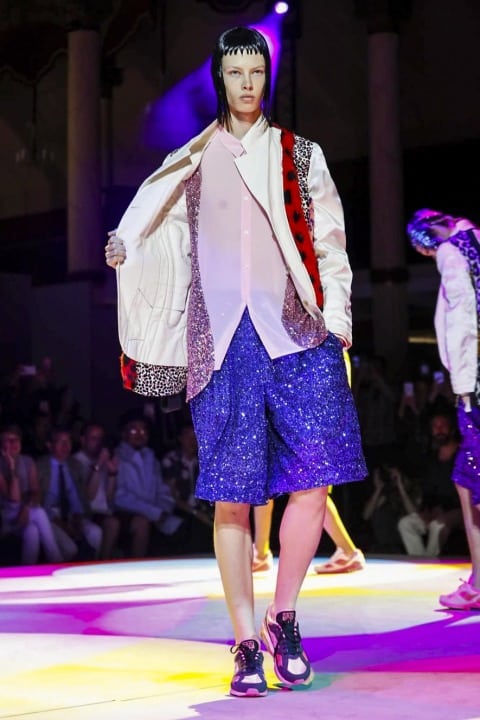 Lou Stoppard reports on the Comme des Garçons Homme Plus show
For seasons, we've all been complaining shows are mundane, repetitive, similar, safe. Kawakubo's message, straight after opening her retrospective, is that she's still setting the pace.
Comme des Garçons Made Me Hardcore. Rei Kawakubo has lots of reasons to celebrate – a stellar exhibition dedicated to her work opened recently at the Met's Costume Institute in New York. It's the second ever solo show to be dedicated to a living designer (the first was Yves Saint Laurent in 1983). Quite the achievement. So no wonder she was in the mood for a party.
Her past few collections have felt concerned, compassionate, reflective. Themes of war, displacement and masculinity have dominated her work. This was a more optimistic affair – what says optimism more than sparkle? Or disco lights? Or dancing? DJ extraordinaire Frédéric Sanchez set the mood and amped up the nostalgia by playing Supernature. Models danced with varying degrees of awkwardness. That added to the success of the show. The mood wasn't mindless fun and happy hedonism. More that euphoric, urgent escapism of moving clumsily in a club – of whiling away hours on the dancing floor, bumping into fellow revellers, searching for meaning, looking for love. Models looked like boys at the end of the night, keen to find some vague purpose to keep them going for a few more hours.
Sounds fun? Yes, but there was depth too. The collection was dubbed What's On The Inside Matters – strangely ironic, given that nights out are almost entirely about surface and luring others in with outfits, knowing glances and moves. The title was a reference to the clothes – jackets were almost entirely worn inside out. Only a Comme des Garçons jacket could be so beautiful that the internal panels, crafted often in florals or busy patterns, could look so at home on the outside. Three special styles were made in collaboration with Mona Luison, a textile sculptor whose work is childlike and warped, hence all those doll heads and terrifying baby faces. These pieces were the stuff of nightmares – a perfect version of a bad trip. For the finale, all the models reappeared on the square elevated platform that formed Kawakubo's runway. They bopped mindlessly, bumping into each other, striking poses for the photographers. Close your eyes slightly and it looked like a scene from a Mark Leckey art film. As the last one left, and the music began to fade, the clapping began. It didn't stop even after the lights went up and the sound finished. At most shows, just as the final model disappears from view, the front row leap to attention, rushing for the door. Here, we all stayed. Clapping. Smiling. Wishing for more. For seasons, we've all been complaining shows are mundane, repetitive, similar, safe. Kawakubo's message, straight after opening her retrospective, is that she's still setting the pace. After that, others need to work much harder.
Business Of Fashion – 24 juin 2017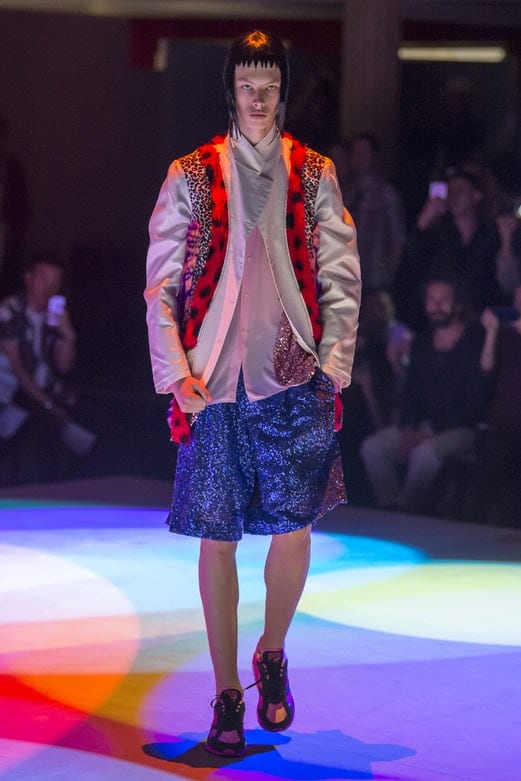 Fierce Optimism at Comme Des Garçons Homme Plus
By Tim Blanks
Elevated catwalks are anathema to Rei Kawakubo, but the raised square that filled the centre of the Salle Wagram for Comme Des Garcons' show on Friday afternoon looked a lot like a dancefloor in a nightclub. And sure enough, when Frederic Sanchez's soundtrack blared and the coloured spots started to spin and a passel of boys shuffled onto the floor, Comme54 sprang into awkward life.
Kawakubo gave Sanchez a one-word brief: DISCO! He mutated it a little: as much disco as a skewed spin on rave. The clothes followed suit: Madchester made even madder, like the models' Liam Gallagher hairdos, exaggerated and drowned in sparkly gloop. Glitter cascaded over Comme signatures like the baggy shorts and the elongated, voluminous jackets.
Kawakubo's message was this: What's on the inside matters. All the jackets were turned inside out. So the incredible patchwork of sparkle, fake fur and animal print that we saw was actually a lining? You could scarcely picture a more vivid analogy for the crazy turmoil of anyone's inner life at this particular moment in the decline and fall of western civilization. But it was so upbeat, sweet even. There were shirts and waistcoats that looked like they'd been composed of candy. And the stumbling self-consciousness of the models (who really wants to dance in front of an audience?) was a charming antidote to the otherwise-frostiness of this season's runways. The takeaway was a fierce optimism. It's not always been an attitude that easily attaches itself to Comme des Garcons (collaborator Mona
The takeaway was a fierce optimism. It's not always been an attitude that easily attaches itself to Comme des Garcons (collaborator Mona Luison's doll-parts jackets harked back to Kawakubo's ability to effortlessly disconcert) , but in the wake of a major exhibition at New York's Metropolitan Museum, the designer's unique position in fashion has been brought to the fascinated attention of a much wider audience. You have to imagine that feels good. Well, something made her want to throw a party.
Business Of Fashion – 18 juin 2017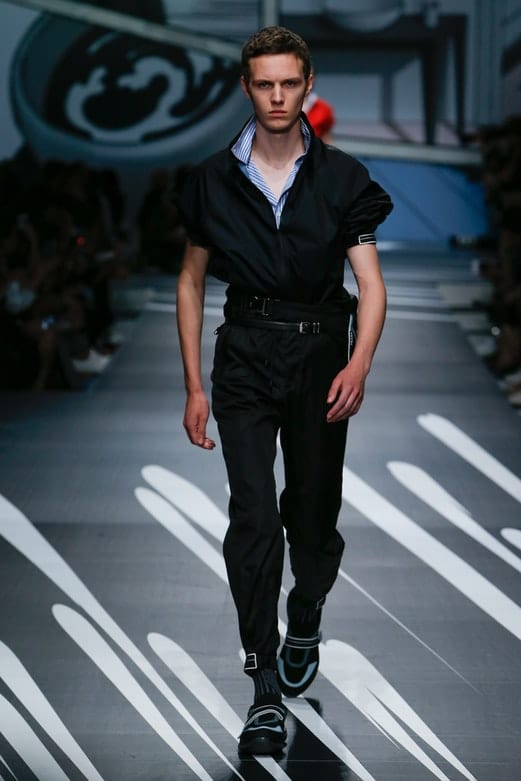 A Graphic Pradaworld
In the face of so much conceptual complexity in her art world, Miuccia Prada opted for simplicity — the human touch — in her fashion world.
By Tim Blanks
Miuccia Prada hasn't seen any of David Lynch's new Twin Peaks. "I'm keeping it for the summer," she said cheerily, "on the boat, when I'm bored." It will be fascinating to hear her verdict, especially in light of the men's show she presented on Sunday night, which she initially described as the result of her feeling "trapped between virtual reality and humanity."
That seems to be more or less what is happening to everyone in Lynchland, with occasionally horrific results. No horror in Prada, of course, but the same effort to reconcile our primal human physicality ("Live real, love real, die real," as Miuccia said) and the vast, unpredictable unknowability of almost everything else. Lynch advocates surrender to chaos, Prada is still bent on extracting some kind of order from it all.
That's why she'd fallen in love with comics: their simple frame-by-frame logic, the humanity of the handmade. At the same time, Miuccia found their peculiar stop/start quality appealing. It's a lot like life. "They're the opposite of fake virtual reality, but at the same time they're very fragmented." In commissioning a couple of artists to create graphic analogies for her state of mind, she'd asked that they "do stories, push the human touch, not too superhero."
The Prada showspace was lined with huge dislocated frames, alienation writ super-large. On Prada's Instagram, the frames were allowed to form into short vignettes that offered a more cohesive glimpse of narrative possibility. Maybe that in itself was exactly the juxtaposition Miuccia was addressing. "You have to embrace the new world, but you don't want to lose your essential humanity," she mused. "Do you put them together, or keep them separate? The whole world is facing this challenge."
Never mind that her challenge was to somehow convey all this in a collection of clothing. Truth be told, it was one of those seasons where the ebb and flow of the designer's thought processes were more entrancing than the physical expression of those processes. Right now, the Fondazione Prada in Milan is showing a virtual reality piece by the director Alejandro Gonzalez Inarritu that is wringing tears from viewers. Meanwhile, the Fondazione Prada in Venice has a fourway between artist Thomas Demand, filmmaker Alexander Kluge, costume designer Anna Viebrock and curator Udo Kittelmann that is the most extraordinary, engulfing experience, literally stepping through a door (actually, there are many doors to choose from) into a parallel reality. (Lynch again!) So it was understandable that, in the face of so much conceptual complexity in her art world, Miuccia would opt for simplicity – the human touch – in her fashion world.
My takeaway from the show was a jumpsuit. "I'm crazy about jumpsuits," Miuccia enthused. "I fell in love, no reason. Probably because it's simple." As well as which, it tied into the collection's utilitarian subtext of functional human clothing (the apotheosis of the bumbag, right here, right now). Concerned that simplicity might be edging towards naivete, Miuccia weighted a number of looks with big heavy classic coats in flannel and herringbone. "The right counterpart," she decided. "That's just fashion."
Frederic Sanchez's soundtrack switched between New Wave radio stations, and all at once, the boys on the runway were cool kids in the 80s, with their semi-Stray Cat dos, and their Joe Jackson shoes, collars turned up, pants hitched high. And those coats, borrowed from dad, or pinched from a second-hand shop. In its own perverse way, it was a vision of innocence, comic strip clarity in a world spinning out of control. We know what happens to innocents in Lynchland. Can they survive in Pradaworld?
Dior Homme x Sennheiser – Musique originale et sound design – Juin 2017
System Magazine – 02 juin 2017
My studio is more than a place of experimentation. It's an extension of my own mind.'
The work and inspirations of one of fashion's go-to music men.
By Frédéric Sanchez
Music-producer, Frédéric Sanchez, can be considered more than that. Known for featuring complex loops in his compositions, and creating audio-visual "soundscapes" with original films, Sanchez is best described as a sound-artist. The latter title, "artist", is often also assigned to those Sanchez has collaborated with for many years, producing music for the shows of designers Martin Margiela, Miuccia Prada, and Rei Kawakubo at Comme des Garçons.
Sanchez revisited his archive for System, reworking footage from his various projects for a film that showcases his body of work, and the space in which it was created: his studio. Read Sanchez on the significance of this space, in his own words, below.
"My studio has become more than a place of experimentation; it's like an extension of my own mind. With the many connections that are made, and interrupted there, it's a space that leads me down previously unknown paths. Those paths meander and merge, responding to one another before inspiring something different – a new image. I give this new image to the viewers, who can then perceive it with their own emotions and dream up their own interpretation."
For more from Frédéric Sanchez, read his conversation with fellow music producer, Michel Gaubert, in System No. 9. Click to buy.
Credits: Roma by Federico Fellini (1972), The Last of England by Derek Jarman (1988), Martin Margiela at Café de la Gare, Station Saint-Martin (1992), Siouxsie and the Banshees, Martine Sitbon at Elysée Montmartre (2008), Evening of Light by François De Menil (1969), Barbara Sukowa, Francesco Vezzoli, Visage, Vivienne Westwood's 'Café Society' (1994), Merce Cunningham, Michael Clarke, Brian Eno, Roxy Music, Virgin Prunes, Prada, Comme des Garçons at Elysée Montmartre, Patrice Chéreau's Bayreuth, Dior Homme, Last Year in Marienbad by Alain Resnais (1861), And the Ship Sails On by Federico Fellini (1983).
Dior Homme Toyko 2017 – Composition originale
Prada Resort 2018 show video – Composition originale
Prada women's fall winter 2017 2018 show video – Composition originale