Dazed – March 6th 2016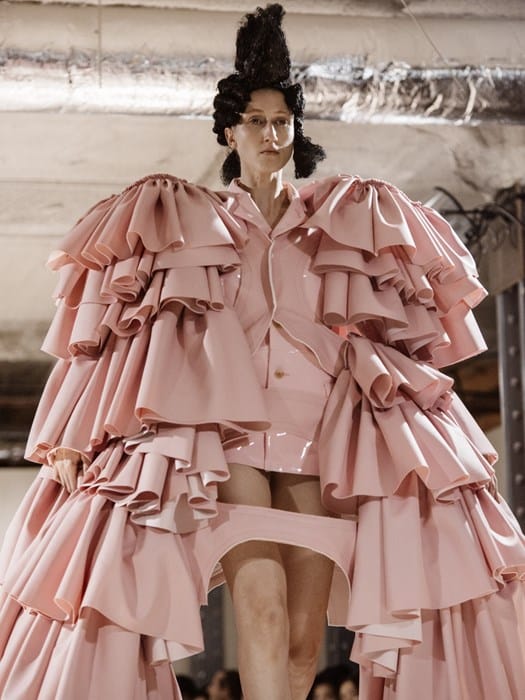 Comme des Garçons imagines punk in the 18th century
We've had impassioned anger. We've had mournful tears. And now comes unbridled joy. Giddiness, even. It's the Comme des Garçons emotional rollercoaster you want to ride repeatedly, with Rei Kawakubo setting the speed. This time around, we hurtled through history as punks somehow ended up in the 18th century.
"The eighteenth century was a time of change and revolution," said Kawakubo in a quote sent out to journalists after the show. "This is how I imagine punks would look like if they had lived in this century." And so the finest of rococo floral silk jacquards, brocades and damasks, the sort you might find in a Jean-François Bony painting were slashed, stitched and cut up into rebellious submission. Anna Cleveland opened and closed proceedings with a haughty stance, appropriate for these haute fabrics. Suits of armour were pitted against the most florid of fabrics. Corsetry and pannier skirt shapes were abstracted and collaged into uplifting pieces. Hair stylist Julien d'Ys fused mohawks with powder wig shapes in a burned-out jet black. Accompanied by a soundtrack of the Nutcracker suite re-rendered on a xylophone, you couldn't help but be enamoured by Kawakubo's show of outlandish punks, living through the age of revolutions and Enlightenment.
If the silhouettes and hair nodded at punk, so did the kinky pink vinyl that made up a cut-up teddy suit and the finale mantua-esque ruffled dress held together with bondage straps as worn by Anna Cleveland. It's the exact shade of Vivienne Westwood and Malcolm McLaren's SEX boutique of 430 Kings Road back in 1974. It's also the same shade of pink worn by the coquettish woman in Jean Honoré Fragonard's painting The Swing. She's being watched by a cheeky peeping tom in the bushes and so there was something salacious going on in Kawakubo's powder pink punks too. The mini shift dresses underneath barely covered bums.
Beneath Kawakubo's riot of florals and pompish punk, there was a bigger message to be mined. Turns out all these supremely beautiful fabrics were sourced from Lyon, once Europe's centre of fine silk production and home to the most skilled weavers and craftsmen at historic fabric houses like Bucol and Prelle. Someone backstage even jokingly said, "This is going to be fucking expensive!" In a fashion age, where contemporary pricing and accessibility is lauded, trust contrarian Kawakubo to push back and say 'No, thank you.' This was Kawakubo's clarion call perhaps to the industry to see the rebellious side of savoir-faire. Craftsmanship is often doled out to us with slow hands and quiet restraint. Here, Kawakubo utilised the crème de la crème of haute couture fabrics and pummelled them into assemblages that were boisterous and in yer' face. How can we re-contextualise high-end quality and bring it to people's attention? This was perhaps Kawakubo's stroke of provocation.
As the show came to an end, a fairground-esque music played the audience's exit out. Some scrambled up on the raised wooden catwalk to venture backstage, eager to find out what Kawakubo had to say. Others skipped outside with giant grins on their faces, as if enveloped in ebullience.