Another – October 5th, 2017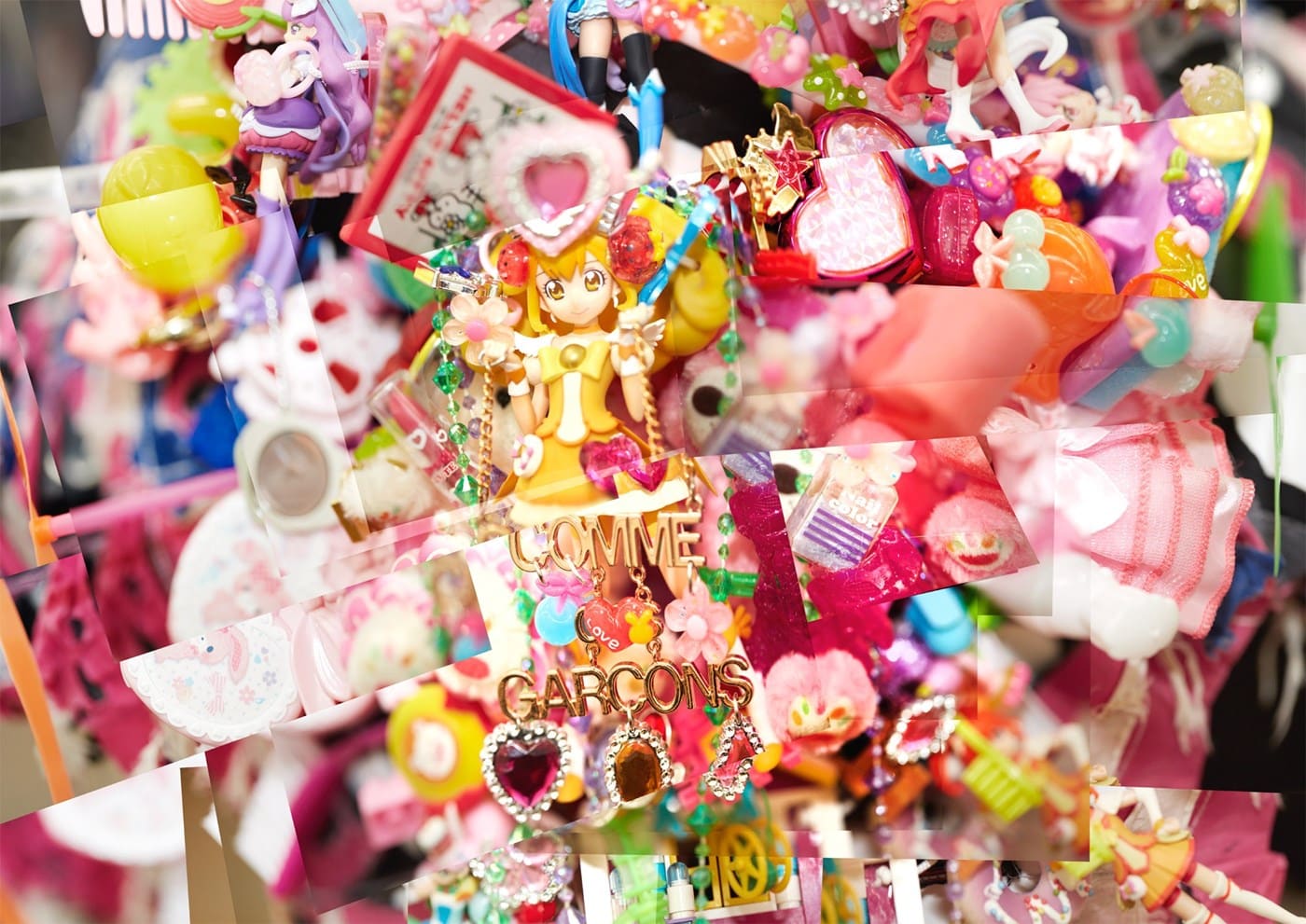 Comme des Garçons' Multi-Dimensional Graffiti
Susannah Frankel takes us on a tour of the Place Vendôme showroom host to Rei Kawakubo's extraordinary S/S18 collection
In a fashion world dominated by international brands, the Comme des Garçons empire stands alone. Neutral, like Switzerland, from the point of view that the company's founder, Rei Kawakubo, is universally revered: other designers are more than happy to cite her as inspiration which is unprecedented. Her work – and the work of her protégés Junya Watanabe and Kei Ninomiya for that matter – is anything but neutral, however. Instead, it runs the gamut from breathtakingly beautiful to borderline violent, at times in a single collection, and that says quite something about both the technical skills and emotional power behind it. Comme des Garçons, then, stands outside – and more often than not above – the madding crowd.
As a business structure, too, Comme des Garçons is in a place all of its own. That is nowhere more clear than in the bright, white, Paris showroom where, after the initial impact of the runway presentation, all three collections may be seen up close. So too the commercial lines that make this among the most successful businesses today, from Comme des Garçons' instantly recognisable tailoring with its sweet Peter Pan collars to Junya Watanabe jeans.
It is not insignificant that the space in question is located on Place Vendôme, among the French capital's most famous squares and home principally to fine jewellery courtesy of everyone from Dior to Cartier and also to the Paris Ritz. It couldn't be more bourgeois and, with that in mind, Comme des Garçons' chosen HQ is as disruptive to the traditional French fashion system as any of the clothes.
At the heart of it all and, quite rightly, in pride of place are Kawakubo's magnificent structures, majestically in line through the centre of the first, long, narrow room. It is well known now that this designer no longer shows clothing in the conventional understanding of the word on the catwalk but chooses rather to present huge, sculptural pieces – there were fifteen of them in total this time – in exploded silhouettes that positively dwarf their wearer and that speak volumes (no pun intended), season, after season, after season.
In fact, for Spring/Summer 2018, while Kawakubo's collection was just as big and bold as has come to be expected, it focused as much on surface – on colour and print in particular – as it did outline. Drawing on the work of 12 different artists, from Giuseppe Arcimboldo who, in the 18th century, artfully painted faces out of still lives of vegetables and fruit, to the pixel landscapes of Berlin-based eBoy and the dewy-eyed girls with flowers in their hair that Macoto Takahashi is known for: they gazed almost hypnotically from garments. Colour, coming from a woman who still predominantly favours black, and pattern couldn't have been more vibrant.
In the Rococo halos of mannequins' pale frizz, crafted by long-time Comme collaborator Julien d'Ys, were buried pop cultural plastic toys in girlish, fondant-bright shades. Huge tangled clusters of these also hung around necks. Memento mori to lost innocence? Kawakubo said the thematic was "multi-dimensional graffiti". On the surface there was joy for sure but angel wings on the back of one of two white looks and menacing ravens printed across another carried an undertone of melancholy. Another elaborately pieced and patched tulle design spoke of nothing if not a life in clothes. Frederic Sanchez' show soundtrack, meanwhile, darted from FKA Twigs to Lisa Stansfield and concluded with the funereal Adagio For Strings by Samuel Barber.
There are only very few designers in history able to make their audience smile and cry in the space of no more than around 15 minutes. Rei Kawakubo is one such.