Dazed Digital – June 12, 2016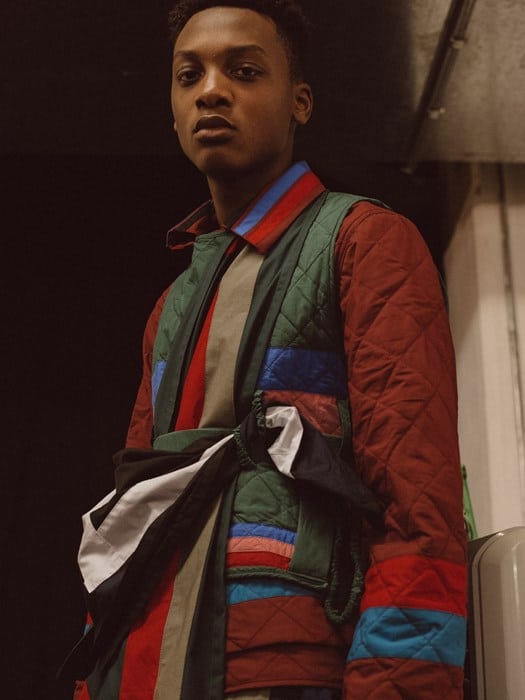 Frédéric Sanchez on crafting Craig Green's SS17 soundtrack
Exclusive: the legendary sound director discusses soundtracking the designer's poetic SS17 show – plus, discover his track list
At his SS17 show on Friday, Craig Green captivated the fashion industry once more with a collection that drew on Boy Scouts and Indian draping. It was an emotional show, both because of the poetry of the collection and the touching soundtrack created by cult music composer Frédéric Sanchez.
"I've followed Craig's work for a while," said Sanchez, who has worked with Comme des Garçons,Prada and Jil Sander among others, speaking ahead of the show. "What I like about his work is that you have things from the past meet things from the future – like Symbolist paintings. There is something so inspiring and poetic about it. I wanted to work with him and, you know, try and enter his world."
And enter his world he did, with a soundtrack featuring Oliver Coates, Colin Self, Kate Bush, Vampillia and Roy Harper. Music, says Sanchez, is like the "decor" or "perfume" that helps turn the presentation of clothes into something more special, engaging the audience's ears as well as their eyes. Backstage at the show, Green said that the music we heard was the first mix Sanchez gave him to listen too. "It was just a really easy, natural process," he said, commenting on his experience of working with the producer. 
Of course, Sanchez's decision to work with Green is interesting in and of itself – he worked on Martin Margiela's debut show in '88 and has worked with other designers from the very start of their careers. "There's something that attracted me (about Green's work). You know, it's exactly the same feeling I had when I first saw some things from Margiela, Yohji, and Comme." As Green's career goes from strength to strength (he's just won a major grant), his collaboration with Sanchez is further proof that there's much more to come from the designer. 
TRACK LIST
1. Oliver Coates, "Another Day (Bryce Hackford Remix)", Another Fantasy
2. Colin Self, "Elation I", Elation
3. Oliver Coates, "Another Day", Towards The Blessed Islands
4. Kate Bush & Peter Gabriel, "Live in Europe 79 & 80", Another Day
5. Vampillia, "Hope", Some Nightmares Take You Aurora
6. Roy Harper, "Another Day", Songs of Love and Loss, Vol. 1 & 2