Jil Sander – Style.com – February 2015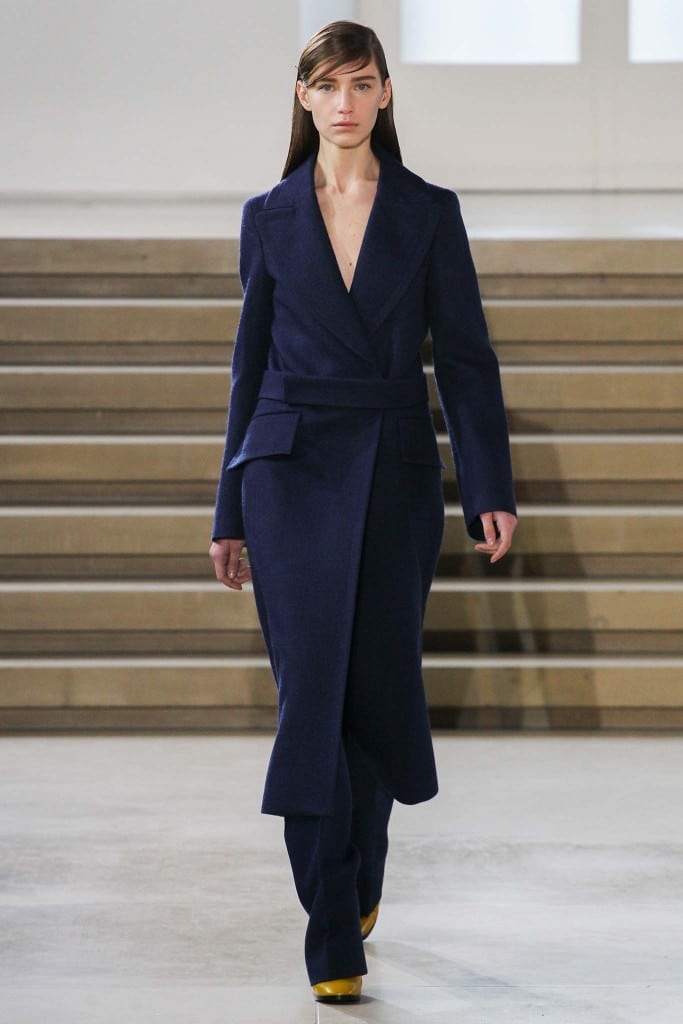 February 28, 2015
Frédéric Sanchez's soundtrack—a blurry, impressionistic, almost atonal mesh of Nico's and Chet Baker's versions of "My Funny Valentine" —suggested chaos. But the set was a precisely ordered group of colored pillars, like a geometric Stonehenge. Rodolfo Paglialunga imagined his new collection for Jil Sander forming somewhere between the chaos and the precision. The designer would pluck order from disorder.
It's all any artist tries to do, but Paglialunga's challenge was a little more pointy, given the patchiness of his efforts to date. Still, he made huge strides
with this collection. It won't set Planet Fashion alight, but it registered as wearable, real-world, and properly proportioned. Credit the designer's precision for that coup. Long coats and matching pants made a new kind of elegantly elongated suit. A bone-toned leather coat was a standout. The lines that traced a navy blue coat suggested something military, the most precise association of all. And even when Paglialunga started to mess with precision, he didn't lose that line; it simply went diagonal. Shaved black mink was diagonally pieced for a coat. Dark green pony got the same treatment in a skirt.
Coatdresses were shadow-striped or crisscrossed with tape, always maximizing the line. You could follow the footwear for a subtext. One look featured correspondents paired with a pencil skirt and a full-sleeved knit top. Joan Crawford? That, at least, underscored Paglialunga's disdain when he dismissed the ongoing debate about the dialogue between feminine and masculine in Jil Sander's women's collection as "banal." If he could silence that debate, he'd definitely be able to put his own thumbprint on the label. So he showed a lovely, simple slipdress, and he closed the show with Hedvig Palm in a blush-toned coat that was forceful in line but indubitably womanly. Paglialunga is finding his feet.