Marni – Style.com – March 2015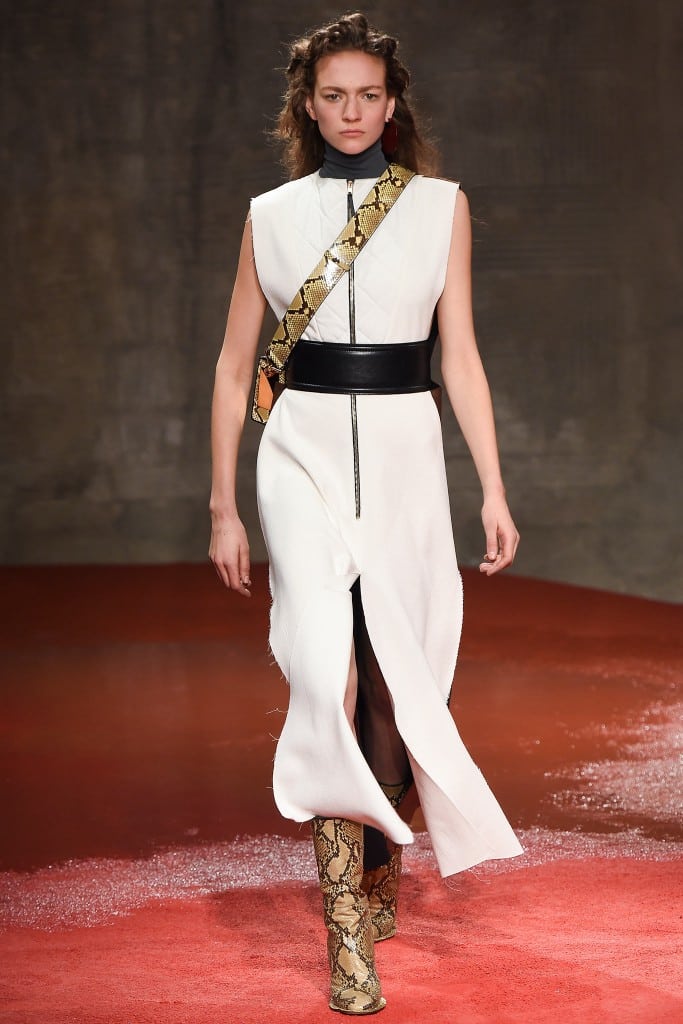 Fall 2015 Ready-to-Wear
March 1, 2015
When Consuelo Castiglioni mentioned "twisted femininity" as a reference point for her new Marni collection, it didn't really strike an oh-that-sounds-new chord. Marni has always walked the skewed side of the street. But what did look new the minute Sophia Ahrens hit the catwalk today was the fierceness: Amazonian tunic, major belt, python boots and matching cross-body bag strap, hair dragged up and off the face, brows knit. Woman going somewhere, and best get out of her way.
Backstage, there was talk about the cult movie Hanna, with Saoirse Ronan playing a girl who was raised as a vigilante/assassin. Castiglioni was in love with the notion of a purposeful woman on the move. Her collection was infused with a sense of rawness, urgency—propelled by the ominous, pounding slab of John Carpenter music that Frédéric Sanchez had chosen for the soundtrack. Seams were ragged, fabrics raw-cut. One of the most striking effects was a floral print transformed into a jacquard that was brushed till it was part bald, part thick-piled. There were dresses that looked like bolts of fabric had been draped around the body and belted into place, no time for a finishing touch. The use of fur had a similar rough-hewn, patched-up flavor.
But the sheer power of the look was much less Hanna warrior than vintage Hollywood. There was also talk backstage of Hitchcock heroines: not the Technicolor blonds, but the black-and-white stars—Ingrid Bergman in Notorious, say—except they tended to be victims. It was more an iconic ball-breaker like Joan Crawford who registered in Julia Nobis' finale look: a high-necked silk blouse attached to fur sleeves paired with a flaring tweed skirt appliquéd with a black velvet floral pattern that could almost have been something tribal, like the stenciled patterns earlier in the show. You could picture Mildred Pierce on a 21st-century rampage.
The militant mood never let up. Those cross-body bag straps were Castiglioni's Buster Brown belts. And the major silhouette—the lean, elongated top over flared pants slit open at the hem—also had something of Mao's militarized women who would take Tiger Mountain by strategy. But it was an utterly convincing and forceful expression of Castiglioni's evolving vision. How far she's come.