Business Of Fashion – May 7th, 2018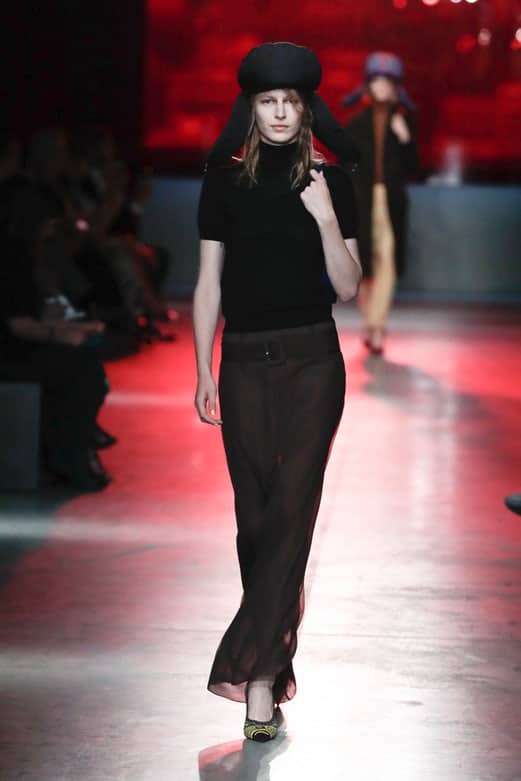 Miuccia Prada's Mad World
For Prada's first cruise show in New York, its filter was turned up to the max. The designer proposed new silhouettes and details that moved far away from today's overwrought trends, providing an urgent, necessary relief from tired fashion.
BY LAUREN SHERMAN
NEW YORK, United States — Years ago, Prada bought an old piano factory here in Manhattan, far, far in the West 1950s. It was a dead zone back then. Now, the neighbourhood is filling up with luxury apartment buildings and vaguely chic restaurants, populated with New Yorkers thrilled to have escaped cramped quarters in denser parts of the city.
Prada, too, has settled in to what it is now its US corporate headquarters, with enough room to accommodate a runway: an entire empty, brutal, concrete floor. On Friday evening, the architecture firm Herzog & de Meuron lined the windows of the space, where Miuccia Prada showed her Cruise 2019 collection, with red plexiglass, offering a new lens on those west side views. New York through the Prada filter. This is only the second time the house has made the resort season an event — the first was last year at home in Milan — and the choice to show here was a statement, albeit a quieter one than many destination shows. It was about the significance of the US to its commercial business, which it says is picking up after years of lag, but also to its identity.
The show's soundtrack opened with Michael Andrews and Gary Jules' wrenching cover of "Mad World." With a song as dark as that, the models instantly felt like real, actual teenagers, wearing narrow slip dresses and ruffle-edged minis. After the show, Prada described the collection as "contemporary," although much of its relevance came from referencing her own work from the 1990s. She also roped in other ideas from the era: In particular, the iconic photograph of Kate Moss in a Jean Paul Gaultier fur trapper hat taken by Steven Klein for Harper's Bazaar.
"It's my vision of what's real and what you want to wear today," she said. "But it's always a fantasy."
Perhaps that's why she said she can't resist returning time and again to her famous upholstery florals and geometric patterns in saturated hues so specific to her palette. And with good reason: few designers' archives transcend eras so successfully. But this wasn't a nostalgic collection. Instead, Prada proposed ideas that will, thankfully, move the fashion conversation forward: a belt slung low, skirts that falls far above the knee, spaghetti-strap tanks, an empire waist. Certain details — a mullet ruffle on a pair of elongated floral brocade trousers, an engineered knit fuzzy like static on an old television, a reinterpretation of the logo fit for the cover of a graphic novel — were tiny but impactful. What a relief to know something new is coming.
But Prada has never lacked relevance on the runway. The staggering number of thinking-person celebrities — including Ava Duvernay, Lena Waithe, Sarah Paulson and David O. Russell, as well as designer fanboys Raf Simons and Marc Jacobs — sitting front row indicates that her work holds important place in the broader culture. They wanted to be there. Will company itself finally be able to take that good will, that admiration, that adoration, and sell in a way that is as contemporary as the work? There's certainly plenty of material.