Business Of Fashion – January 22nd, 2019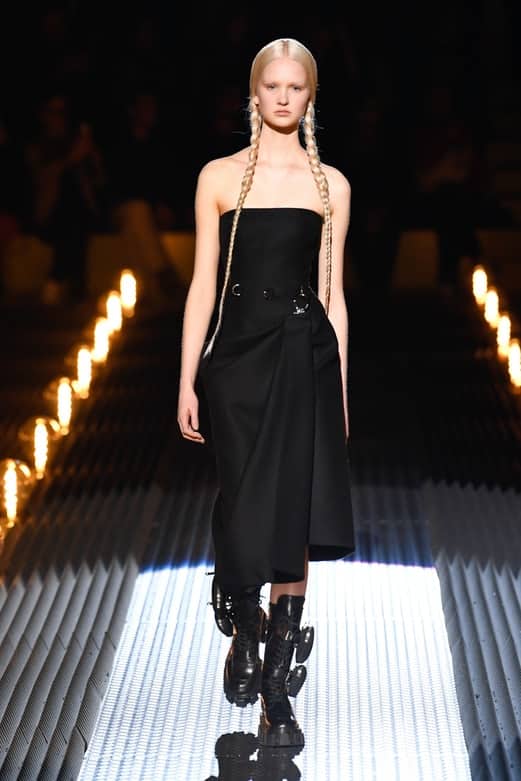 Monsters Reappear at Prada
It might have been one of Miuccia Prada's most curiously uncompromising collections. She has always twisted tropes to animate her collections, but there's more urgency now.
By Tim Blanks.
MILAN, Italy — Miuccia Prada loves love, but she hadn't finished saying what she thought about it in the men's collection she showed in January. Modern romance is a movable but fiercely compromised feast, so Miuccia used her new women's collection to expand on her conflicted thoughts. There's fear in the air, monsters stalk the planet. Love is all we need, but it's not enough, is it?
Maybe consistency will convince. Miuccia rolled over the same window-dressing that she'd used in January: the same foam-rubber floor with the filament lab lighting, the same safety-pinned heart, the same Hellmouth remakes of classic songs on the soundtrack (this time, Marilyn Manson's "I Put a Spell on You" and a Laibach revision of "My Favourite Things" that could send you screaming to the nearest sanctuary). And Dr Frankenstein's monster reappeared, but this time Miuccia united him with his bride. The He&She of Horror. The Adam&Eve of ManMade Man.
Miuccia felt that the topicality of reconstructed humans in an age where we are blindly walking into subjugation to AI was worthy of comment. She's frightened. So fear was a creative impetus in her collection. She mentioned "a very real fear of wars so near" when she was talking about the military aspect of her collection. She shod her models for conflict. And then she dressed Gigi Hadid in a particularly shapely hybrid of an MA-1 and field jacket which she paired with a delicate black lace skirt. Such a contrary combination weaponised womanhood in a way that made this collection a TKO. It was amplified in the way that classic menswear fabrics – tweed, herringbone – were transmogrified into classic femme fatale shapes. Like Binx Walton, tweed sheath limned to her body, portrait neckline recklessly askew. An image more potent than the repurposed combat-wear that surrounded it.
Miuccia Prada has always twisted tropes to animate her collections. Think of a cliché, flip it or burn it to ash. But there's more urgency now. In a grisly ironic flourish, "Someday My Prince Will Come" from Disney's "Snow White" floated across the soundtrack. Face it, he ain't comin'. So Miuccia's women created an apocalyptic beauty for themselves. Something ruched, something draped, and maybe a little lacquered lace. But fucked-up. There were flowers, but they might have been borrowed from a graveyard. There were leather skirts printed with tulips and roses but they felt like fetish gear (the women wearing these particular items were fiercesomely maîtresse-like, so someone agrees with me!).
It might have been one of Miuccia's most curiously uncompromising collections, but she's a past mistress at anticipating moods, so timeliness ameliorates in-your-face. When she was a student, she'd man the barricades in vintage Saint Laurent. Now she's making clothes for her modern equivalents to do just the same. Vintage Prada, in the here and now.