Dazed – June 15th, 2019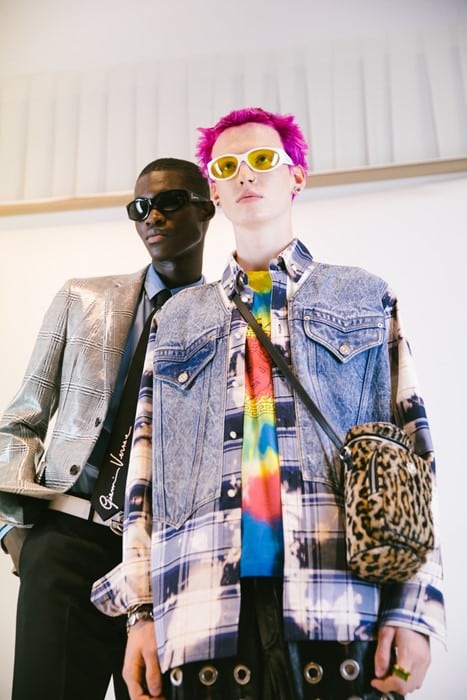 New Wave, 90s rave, and an homage to Keith Flint at Versace SS20
Text Emma Elizabeth Davidson
Photography Christina Fragkou
Donatella presented her latest menswear collection for the Italian fashion house at Milan Fashion Week tonight
It's Saturday night at the men's edition of Milan Fashion Week which can only mean one thing: it's time for Donatella to present her vision for SS20 at Versace (that's Ver-sah-chay, not Ver-sah-chee, remember?). Didn't bag a seat on the frow? Don't panic: we've got you covered. Here's everything you need to know.
THE SHOW TOOK PLACE AROUND A SCULPTURE CENTREPIECE
…of a v boxy, 90s-esque black sports car, from which hundreds of pink and white flowers had piled out of the doors and on to the floor. The catwalk itself was pale pink and polished to a high shine. So far, so glam.
LOTS OF NEW-SCHOOL VERSACE FAVES WALKED
Obvs. Though officially this was a menswear show, Donatella's gang of Versace girls was out in force, with Irina Shayk, Gigi and Bella Hadid, Adut Akech, and Stella Maxwell all making their way round the catwalk.
VERSACE'S NOT DONE WITH THE 90S JUST YET
The first looks out onto the runway drew on the New Wave era, with models wearing cinched leather trenches, severe buttoned up shirts, and classic black ties, before a series of half-and-half black and grey suits followed soon after (can we get Tyler on the phone?). Later, things got more relaxed, as a series of ravey looks appeared, featuring tie-dye t-shirts, bold baroque-print trousers, shirts featuring sports car motifs, and wrap-around sunglasses. Last onto the runway was series of tailored looks, with Bella Hadid wearing perhaps the most 90s look ever: a sparkly blazer with matching bootcut trousers, layered over a triangle bra.
DONATELLA PAID TRIBUTE TO THE PRODIGY'S KEITH FLINT
We didn't necessarily have her down as a huge Prodigy fan, but Donatella seemingly drew inspiration from the band's iconic frontman (who died earlier this year) this season, with rave classic "Firestarter" appearing on the soundtrack, and models with pink, yellow, and green horned hair all storming down the runway. Flint may be gone, but his influence is in absolutely no way forgotten.