Business Of Fashion – July 1st, 2018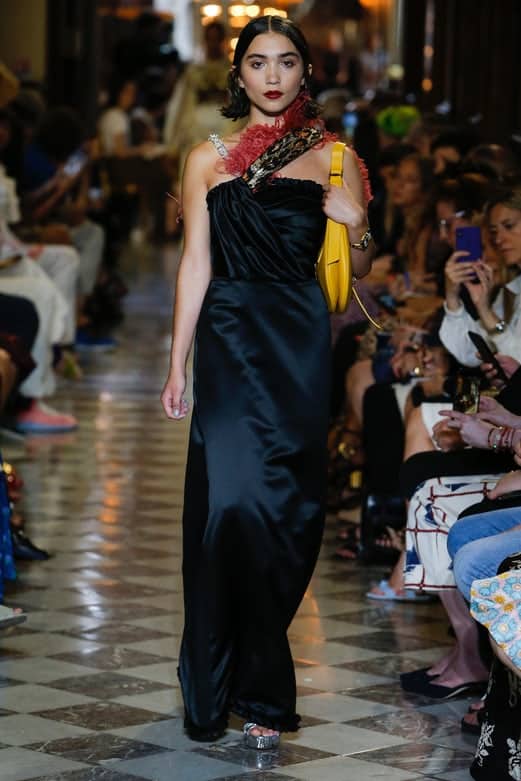 Playing with the Double Side at Miu Miu
Miuccia translated the rootless intrigue of travellers adrift, into a collection that had two faces, the everyday and the mysterious night.
BY TIM BLANKS
PARIS, France — Miuccia Prada had a significant cross-generational selection of actresses in the cruise collection she showed for Miumiu on Saturday, from Uma Thurman and Gwendoline Christie to Rowan Blanchard and Sadie Sink.
Then there were the models-turned actresses, Naomi Campbell, Jamie King, Audrey Marnay. Their presence made it clear the presentation was a performance. As it has been for the other fashion houses who've made a palaver out of cruise, everything distilled down to experience! Miumiu aimed for something immersive.
The setting was the Hotel Regina, an Art Nouveau gem adjacent to the Louvre. The story was essentially everything that goes on in hotels. Late nights, long corridors, lust cut loose from home and hearth. Cast your mind back to the video for Madonna's "Justify My Love". Or even "Lost in Translation", with Bill Murray crooning "More than This" in a jet-lagged karaoke fog (both tracks were on Frederic Sanchez's soundtrack of "hotel music").
Miuccia translated the rootless intrigue of travellers adrift, the way people often are in hotels, into a collection that had two faces, the everyday, the mysterious night. Day featured sporty short shorts and cableknit cardigans, but also a galumphy teenbeat acid-washed denim element that was disconcerting enough to make you wonder if its presence was purely to emphasise the slinky adulthood of the rest of the collection, where columns of duchesse satin and swathes of leopard-patterned lamé. Much of it trimmed with feathers or generously strewn with crystals, conjured up Hollywood visions of stars lounging seductively in boudoirs, or slinking down hallways for assignations in other rooms. One enraptured onlooker was drawn to comparisons with Fellini's "Juliet of the Spirits" and its rococo sensuality.
At the same time Miuccia couldn't help herself. She had to undercut the obvious. So there were naïve jacquards – pussycats and flowers — and denim wrapped in a sheer peignoir that injected an element of sour/sweet, and a haunting undertow of "Rosemary's Baby" in a model with Mia Farrow's pixie cut from that film. (Or maybe it was Roman Polanski's presence in the audience that sparked that association.)
Miuccia felt the duality was intrinsic. "In my life, I like to play with the double side," she admitted. If, in the provocative anonymity of a huge old hotel, at least one facet of her split personality took on a racy life all its own, there was also the other grounded side of her personality to pose critical questions like What's it all about? and Are we really having fun?