Vogue – June 17th, 2018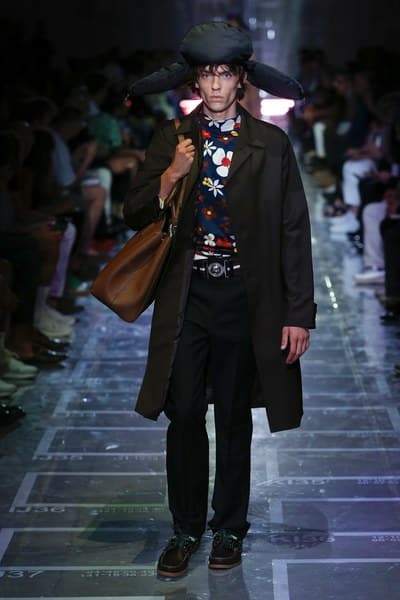 by LUKE LEITCH
A Prada show sometimes feels like an especially fiendish crossword puzzle that's designed never to be solved. To get to something even approaching a suitable answer you need to navigate a whole tranche of clues, misdirections, and visual entendres.
But that's the game. The unknowability of Prada is one of the elements that so entrances its devotees. As Timothy Leary once said, "The universe is an intelligence test." In Miuccia Prada's universe, the test is to find the intelligence—the information—that leads you to a vaguely acceptable explanation.
Tonight the trail of clues began with the setup. Prada's double-vaulted industrial shell was stripped back and redolent with the fresh-rubber smell of a newly bought pool toy, thanks to the translucent sheeting that coated its walls and floor. The seating was reproductions of the inflatable footstool first produced in 1960 by Danish designer Verner Panton, whose "total environment" interiors look like Austin Powers sets today, but were in their time powerfully psychedelic spaces.
This nod to the 1960s (sex, drugs, rock 'n' roll!) prefaced the most urgent-to-the-eye decorations in this show: the powerfully '60s florals near the end, the hand-drawn head-scape of flowers, clouds, and girls on a sweater towards the beginning, and the three printed and filtered collage looks—with short-shorts—in the middle. The music was Aphex Twin and Brian Eno, culminating with Air's "Sexy Boy." Okay . . . so was this Prada taking a trip to Sexytown? Backstage Mrs. Prada said she was hoping this season's iteration of Prada man would be "elegant but in a young, new way." Almost coyly, she did not disagree with the suggestion that sexiness was on the Prada palette. "You know I'm a bit contrarian. You know I never pronounce this word in my life: I never wanted to pronounce the word sexy. But now, sexy. . . ."
Aha! Maybe that was it! Prada loves to play with the ugly, and today—as Versace touched on, too—sexy is an ugly notion. Which makes it ripe for Prada-fication. So was Prada dosing us, taking us on a trip and urging us to turn on, tune in, drop out, and assess the subject afresh?
Sexiness is subjective, of course, but there was a trad-masculine authority (if that's what you're into) in the cleanly cut single-vented colored blazers and seamed, washed jeans with a break. There was also plenty of thigh (if that's what you're into) in the Daisy Duke denims (Davey Dukes?) and printed, striped, or plain short shorts which Prada might just have described as "miniskirts for men" (it was hard to hear in the backstage crush). There was a touch of femme (if that's what you're into) in the rubber-sheened ruffle-fronted shirts that were delivered towards the end.
There was a gentle return to the logo-fication we've seen here in recent seasons, but with none of the heavy emphasis on sportswear. Instead there were sturdily unreconstructed rib-knit and leather half-zips, boat shoes, ushankas in house nylon or a weave in red and blue that translated to sneakers and a sweater, and a tailored silhouette that was ostentatiously un-emphasized. Every look—every single one of them—came with a bag slung across the right shoulder.
Prada collections are drawn-out acts of fashion titillation, obfuscation, and veiled intent. As propositions go, tonight's was almost bracingly direct: sexy boys in elusive clothes. And, like, wearable.