Fashion Network – January 13th, 2019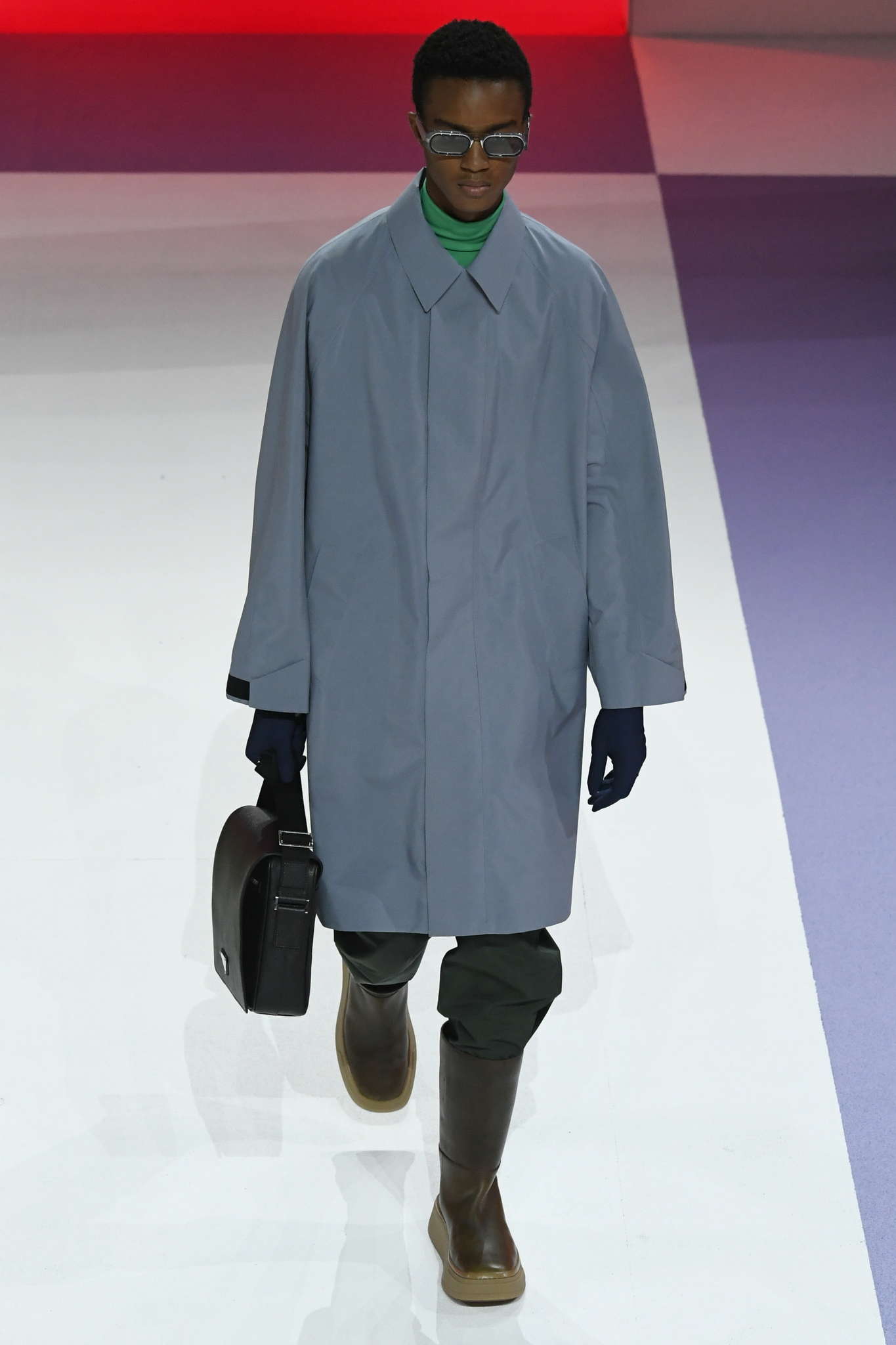 Prada: de Chirico gents meet neat post-punks
Godfrey Deeny
Few events will better sum up the mega trend for polished menswear better than the latest show by Prada, where the spirit of New Wave encountered Italy's greatest post-war painter.
Guests entered the soaring Fondazione Prada art center on Sunday afternoon to find two enormous sunken courtyards, in the middle of which stood all-white cut-out equestrian statues. Pastel floor patterns, moody lighting and red archways all evoked one of the dreamlike paintings of Giorgio de Chirico.
"I wanted an anti-heroic statement, so my equestrian statue had to have spindly legs," chuckled designer Miuccia Prada.
Yet, like the solitary figures that populate any of the painter's oils, Miuccia's cast were carefully dressed, over half of them in refined coats – whether lush double-breasted shearlings, or slim technical gabardine raincoats, velour corduroy trenches, or steely gray wool town coats. The must cunning piece of outerwear was finished with large patch pockets in waterproof microfibers, like Dixon of Dock Green in Milan.
Busy young men, that walked quickly through the two stagey piazzas, as the audience of some 1,000 gazed down from elevated bleachers eight meters above.
Miuccia cut some incomparable jackets; with broad sleeves, five-inch-wide lapels and enveloping shapes they looked like they belonged to the models' big brothers. Shirt collars were long and pointy, with many models wearing thin ties and carrying satchels. Before the show went into overdrive with combinations of patent leather shearling gilets, slim pants and huge-soled wellingtons and farmer boots.
"I wanted to praise work. Not just the idea of the devoted artisan, but the importance and vitality of work for everyone. I think that the millennial generation didn't quite get that. They think everything comes easy. But that's not the case. You have to work really hard in this life to get what you want. The next generation seems to get that idea," insisted the Italian designer post show, winning the biggest ovation so far, after five days of shows between Florence and Milan.
The soundtrack was a brilliant meeting of New Order and Richard Wagner, an assemblage of live bootleg recordings which meant nobody could track the tunes on Shazam. Two of New Order's single covers were inspired by de Chirico's metaphysical paintings.
"I found that remarkable, and the fact that New Order were into Wagner, they used to play Das Rheingold to open their concerts! When I discovered that…" smiled Miuccia, indicting with both hands a path ahead.