Happymag.tv – June 18th 2019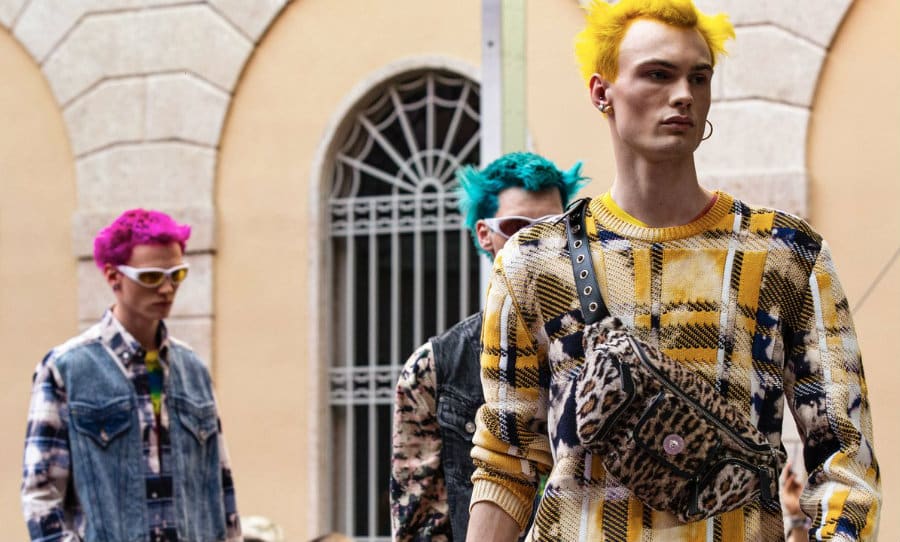 Versace's new menswear collection is inspired by The Prodigy's Keith Flint
By Sarah Gillard
Donatella Versace has commemorated the late The Prodigy frontman Keith Flint with her latest Spring/Summer menswear collection. This is not the first time that Flint has been associated with the Italian fashion house.
He caused disruption when he performed with his band at Versace's menswear shows in 2004. With rumours of the artist breaking his leg during rehearsals, the controversial and erotic performance shocked spectators, with Flint licking and simulating oral sex on some audience members.
Donatella Versace celebrated the life of Keith Flint with her latest menswear collection, dedicating the show to the late The Prodigy frontman.
Prodigy's iconic hit Firestarter was blasted on the Milan catwalk to open the Versace menswear SS2020 runway show, as the models stormed down the catwalk in '90s rave inspired leopard print, denim and leather; styled with neon-coloured hair in Flint's signature double mohawk.
"Versace iconography is embraced through a nod to 1990s culture, paying homage to The Prodigy, the British band accredited to the rave movement" stated the brand's Twitter account yesterday.
Before the show, Versace said "I dedicate this collection to my old friend. He was disruption… and he performed right here the last time he was in Milan." That was in 2004, when Flint told journalists "Milan smells of sex and death. I like to bring the ugly to the beauty."
Keith Flint passed away in his Essex home in March at the age of 49. At his inquest in May, the coroner ruled that suicide had been considered the cause of his death, but an open verdict eventually ruled that there was a lack of evidence.
Last month, his bandmates sent a message to fans encouraging anyone struggling with mental health issues to seek help. "It has been a tough time for everyone over the last few weeks since Keef's passing," the band wrote on Instagram. "If you are struggling with depression, addiction or the impact of suicide, please do not suffer in silence… The Prodigy fully support the campaign to improve mental health for all and give it the respect it deserves."