Vogue Collections Fall Winter 2015-2016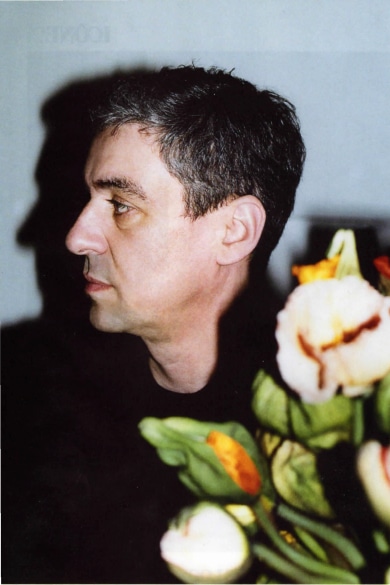 By PIERRE GROPPO. Photo JONAS UNGER.
SOUND MAN
He's one of fashion week's invisible men, yet one of its most important, too. Frederic Sanchez bas been putting, his name to the soundtracks of the finest runway shows for the last twenty years.
A runway show lasts ten minutes on average. How can a story be told in such a short space of time?
It depends onthe fashion bouses. It takes around forty hours for each one, plus two to four meetings. Apart from the studio work, I talk to the designers a lot.
Do you get to see the collections before everyone else?
Not necessarily. Sometimes, I don't get to see them at all. This season, I worked with Guillaume Henry: for his first Nina Ricci collection, he mostly showed me photos and objects. But at Comme des Garyons, I was treated to a proper show, for which I came up with a hundred different proposals.
So the trend for autumn-winter is …
Chaotic poetry. Quite a bit of jarring, with an underlying desire to be creative, taking ideas all the ways. I wanted to start working again with breaks and non-mixes, like the collages at Miu Miu, or the slightly acid-drop magic of the Prada show.
Isn't this taste for non-mixing the opposite of a DJ's job?
I'm not a DJ, a record dealer, or a programmer! What I do is fashion. Sound fashion, but fashion first and foremost. You have to remain humble to accompany the collections. Afterwards, I make a distinction between my commissioned work and my own, personal work.
What was your most extravagant project?
A partnership with the Prada Foundation, in Venice, for the Art or Sound exhibition. Miuccia Prada asked me to orchestrate 250 soundpieces – and she didn't want headphones. It was all about working on space, the way sound spreads, echoes, mixes – or not.
What are your favourite venues?
Places that resonate, that aren't perfect, like the Grand Palais, where I've worked twice. I like this idea of reverberation, time lags, that the sound takes time to wend its way into the space's nooks and crannies. Sound is a story, a journey, tracing back the thread of memory.
Which musicians inspire you?
It's got a lot to do with the70s. I discovered American minimalist music through John Cale, German electro through Brian Eno and the new British scene through Gavin Bryars, Cornelius Cardew. And sound poetry, with Robert Wyatt.
A favourite sound or music piece?
I like everything. As I use a modular synthesiser a lot, I'm interested in musicians who use what are called "West Coast" systems, the forerunners of the 6os synthesiser which came into being in the early 6os. The French composer Eliane Radigue used one, and I introduced it into a Nina Ricci show. And I'm also like to explore new women artists, like Kaitlyn Aurelia Smith, who recently brought out a superb album, Euclid.
What about silence?
Silence is a useful illusion …