OBSCURA MAGAZINE Printemps 2014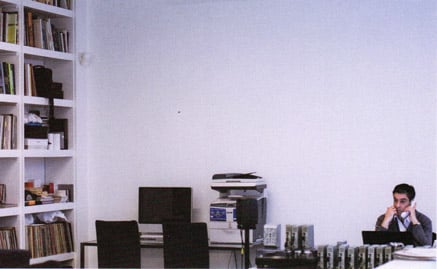 THE SOUND OF POETRY
FREDERIC SANCHEZ
Words by Phaedrus Lam
Photography by Karl Hab
Translation by Edwin Lo
« I ALWAYS FIND NATURAL SOUNDS, LIKE THE SOUND OF WIND OR SEA, VERY POETIC. THE SOUND OF FOOTSTEPS IS ALSO OFTEN USED IN MY WORK. YOU CAN ACTUALLY CREATE A FILM WITH THESE MINIMAL NATURAL SOUNDS. »
OBSCURA: HOW WOULD YOU DESCRIBE THE SOUND YOU CREATE?
SANCHEZ: VISUAL.
Sound, when compared with vision, is inherently abstract and open to interpretation. On a fashion catwalk, sound works like the leaves of a flower – an embellishment to the visual beauty of what we see on the runway. This is an analogy for the work of our interviewee, the French sound designer, Frederic Sanchez. Having worked with various fashion brands and designers over the years, Sanchez has found a way to weave the visual tapestry of fashion with the beats and bleeps of minimal music, and graced countless runways with his signature notes. In this issue, we spoke with the master of sound about the medium's endless possibilities on the fashion runway and together, we unravelled just a few of his simple, yet enlightening secrets.
Born in 1966, Frederic Sanchez made his foray into both sound design and the fashion world in the late '80s. It was during this period that he worked with a young designer by the name of Martin Margiela and would later go on to design soundtracks for Prada, Marc Jacobs, Bouchra Jarrar, Jil Sander and Alexander Wang, among other international names. According to Sanchez, the role of a sound designer had not yet been defined when he first broke onto the scene, and when I ask him if he considers himself a musician or DJ, he avoids both terms and instead refers to himself as a « sound illustrator. » The term « sound illustrator, » I learned later, first came to use in the radio broadcasting industry and refers to the job of providing background sound for programs – a task which, at the time, paralleled the work Sanchez was doing in the fashion industry. His relationship with the radio, however, began much earlier.
« Unconsciously, watching my grandfather listening to Spanish radio stations when I was a kid had a huge influence on me, » he says. « My grandfather couldn't go back to Spain until the death of Franco and these radio stations allowed him to dream about his home country. »
With a strong belief that aesthetic sounds can both recall memories and expand one's imagination, Sanchez is greatly influenced by experimental composers such as John Cageand Morton Feldman, both of whom champion minimalistic and sparse compositions. « I always find natural sounds, likethe sound of the wind or the sea, very poetic. I also love thefootstep sounds that I often use in my work. You can actually create a film with these minimal, natural sounds, » he says. Just recently, the sound illustrator made this sonic minimalism a reality with his first film, Le Soldat Sans Visage. Sparse, yet beautiful, the two-minute film's soundtrack is mostly made up of piano notes and ambient sounds.
On the runway, however, every note must be designed with the fashion show in mind. The creative process begins with an initial meeting with the designer, during which they choose the most suitable sounds to use, as well as the show's atmosphere. « I always need the designer to describe his/her inspirations with words, then the music will appear, » Sanchez explains. The secret to creating a successful, original soundtrack for others, Sanchez reveals, is to find a middle ground between his own preferences and his client's goals. « It is more important for me to respect the person who is in front of me, than to staying trueto my sound. The work I do for fashion is about collaboration, » he says.
Surprisingly – even with over twenty years in the fashion industry – Sanchez has never run out of inspiration. « It always comes from somewhere. The catalyst often comes from the past, so that what you're trying to do is always connected to history, » he says.
For our Obscura website, we are proud to present an exclusive, custom Sanchez soundtrack inspired by his thoughts on people and elements from his past. He doesn't say much more, however, and-like his musical style – leaves us instead withthe joy of discovery and interpretation.